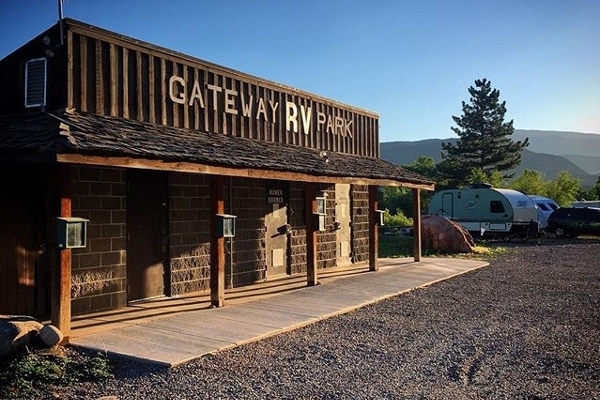 About Gateway RV Park
Gateway RV Park is open May 1-October 1.

If you make a reservation and need to change anything (dates, sites, etc), please contact the Campground Hosts at 970-379-8151.  If you cancel and rebook on your own, you will still be charged a cancellation fee for the original booking.

Tents, SUVs, and car camping are not allowed in Sites 1-19. This includes ground, rooftop, truck bed tents and utility trailers with tents in them. Tents are only allowed in the Group Tent Site. Please call the Park Host to book.

Full Hookup Pull-Through Sites (35-45ft max): $58/night; $385/week; $731/2 weeks
Full Hookup Back-In Sites (25-34ft max): $54/night; $359/week; $682/2 weeks
Water/Electric Back-In Sites: $44/night; $289/week; $549/2 weeks
Electric Only: $37/night; $246/week; $467/2 weeks

***Weekly discounts are available. Two week stay limit for RV sites. Guests must be out of the RV park for one week before they can re-book a site. All sites will have 50/30/20 amp service.

***There is a new Town of Carbondale voter approved 6% booking fee that is for the new short-term rental tax that went into effect January 1st, 2023

Due to the limited capacity of our tanks, non-guests are not permitted to utilize the dump station.