WebReserv.com Features
Online Booking Calendar
With our online booking calendar you can add reservation capabilities to your own website (or websites) in just a few minutes. The booking calendar offers all the same features that you find on WebReserv.com:
Product/unit information
Availability calendar
Customer information
Customized fields
Payment information
The booking calendar is fully integrated with all the other features of WebReserv.com, so when you get a reservation, whether it's from your own website or WebReserv.com, it will all work the same. And don't worry about all the technical stuff. We show your how to add the booking calendar to your existing website.
See how Casa Deco rooms can be reserved from WebReserv.com and Casa Deco's own website at the same time.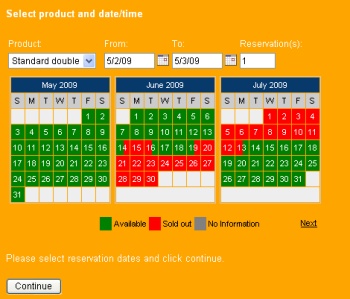 You can find more information about the booking calendar in the resource center.