Your online booking system
Welcome to WebReserv.com, your online booking system. On WebReserv.com you can search for local businesses and products, view pricing and availability details and make reservations. It's like Yellow Pages with online booking.
Featured Listings
Vacation Rentals
Hotels
Log Cabins / Treehouses
Namaste - Summer Specials
Santa Rosa Beach, Florida
Maple Street Bed and Breakfast LLC
Lamoni, Iowa
Cabins on Indian Creek
Carbondale, Illinois
Beautiful vacation rental in Santa Rosa Beach, Florida. Close to the beach!
Maple Street Bed and Breakfast offers a unique overnight experience providing a relaxing evening and
CABINS ON INDIAN CREEK combine rustic style with modern amenities including full kitchens, open layo
Ranch at Wimberley
Wimberley, Texas
Ivywild Lodge
Colorado Springs, Colorado
Bullfrog Mountain Cabin Rentals
Butler, Ohio
Private Ranch on 75 acres with Ranch House, Pool Lodge, 6 Cabins, 1 Cottage, Barn, Free Wi-Fi From
Colorado Springs fully furnished, extended stay Guest Rooms
Two cozy clean cabins in the woods in the heart of the Ohio valley near Mohican State Park, Malabar
SuCasa Vacation Rentals
New Braunfels, Texas
Christopher Creek Lodge
Payson, Arizona
Timber Ridge Outpost & Cabins
Karbers Ridge, Illinois
3 bedroom home on River Road & Guadalupe River (sleeps 14).
Christopher Creek Lodge, Est. 1950. "Had a rough day...or a rough week...Get away from it all...
Rental Treehouses and Log Cabins nestled in the beautiful Shawnee Hills of Southern Illinois.
The Paniolo Ranch
Tucson, Arizona
Blue Swallow Motel
Tucumcari, New Mexico
Lazy Trout Motel & Cabin Rentals
Greer, Arizona
The Paniolo Ranch - Tucson, Arizona - Vacation Room Rentals - Events & Equestrian Facilities.
Historic Blue Swallow Motel on old Route 66 in Tucumcari, New Mexico.
Motel located in the small community of Greer Arizona located in the White Mountains of Arizona.
Boat Tours
Bike Rentals
Segway Tours
Splashers Ocean Adventures
Kailua-Kona, Hawaii
Revolution Cycles
Washington, District of Columbia
Segway Los Angeles
Santa Monica, California
Snorkel Encounters - Manta Night Snorkels - Whale Watching Cruise Charters

Revolution Cycles in historic Georgetown is centrally located to the areas best bicycles trails, off
Segway Los Angeles is the exclusive authorized Segway Retailer and Tour Operator for LA County.
Extreme Family Fun Spot
Naples, Florida
Hutch's Bicycles - Eastside
Bend, Oregon
Atlanta Segway
Atlanta, Georgia
Extreme Family Fun Spot features Naples Boat Cruises, Boat Rentals, Segway® Tours, Kayak Rentals, Bi
Hutch's Bicycles has a fleet of Intense, Specialized, Giant and Cannondale bicycles to suit your nee
You will enjoy a guided tour of Atlanta!
River Inn Resort
Brownville, Nebraska
Hutch's Bicycles - Westside
Bend, Oregon
Segway Maui
Lahaina, Hawaii
Come and relax along the tranquil banks of the Missouri River in historic Brownville, Nebraska on ou
Hutch's Bicycles has a fleet of Intense, Specialized, Giant and Cannondale bicycles to suit your nee
Older or Younger - Age is no difference on a Segway PT.
Miami Beach Boat rental
Miami Beach, Florida
Krank Cycles
Makawao, Hawaii
Nashville Segway Adventures
Memphis, Tennessee
Come to Miami Beach Boat Rental and Drive our brand new boat 2014 through the South Beach area.
We are a full service bicycle shop that rents mountain bikes, road bicycles for all of Maui cycling
Segway Tours and Adventures of the Nashville.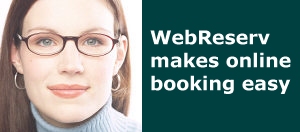 Get Listed!
Get your business listed on WebReserv.com, the best online booking system, and you can start accepting online bookings right away without having to buy new software or hardware.
Everything you need can be handled on WebReserv.com, from setting up your products and rates to managing the bookings - and best of all, you can start using it right away.
Advertisement