Your online booking system
Welcome to WebReserv.com, your online booking system. On WebReserv.com you can search for local businesses and products, view pricing and availability details and make reservations. It's like Yellow Pages with online booking.
Featured Listings
Hotels
Vacation Rentals
Campgrounds
Cannon Dam Cabins
Perry, Missouri
Namaste - Summer Specials
Santa Rosa Beach, Florida
Wilderness Lakefront Resort
Broken Bow, Oklahoma
Cabins have their own fishing lake, gazebo, playgrounds, and indoor pool.
Beautiful vacation rental in Santa Rosa Beach, Florida. Close to the beach!
Our secluded cabins are nestled in the mountains surrounded by forest on Broken Bow Lake in Southeas
Cypress Creek Cottages
Wimberley, Texas
Norris Lake Front Rentals
Lafollette, Tennessee
Faywood Hot Springs Resort, Inc.
Faywood, New Mexico
The Cypress Creek Cottages offer a home away from home experience that's quiet and serene yet close
At NORRIS LAKE FRONT RENTALS, our focus is helping clients create travel experiences that will becom
Faywood Hot Springs, a rustic natural geothermal resort in southwestern New Mexico.
Blue Swallow Motel
Tucumcari, New Mexico
Absolutely Bend Vacation Homes
Bend, Oregon
Priest Rapids Recreation Area Campground
Mattawa, Washington
Historic Blue Swallow Motel on old Route 66 in Tucumcari, New Mexico.
Central Oregon is an idyllic playground for all ages offering 300 days of sunshine a year.
Priest Rapids Recreation Area includes a boat launch, swimming area, day use and camping.
Nine Pines Motel
Pinetop, Arizona
Lake Anna Glass House
Spotsylvania, Virginia
Racine County Campgrounds Reservation Office
Caledonia, Wisconsin
Nine Pines Motel is more than just a motel, featuring 23, custom designed, cabin style rooms.
The Glass House on Lake Anna is a 5 Bedroom 4 Bathroom vacation rental home for rent on Lake Anna in
Cliffside and Sanders Parks offer family-friendly camping in Racine County, WI, with nearby access t
Limousine Services
RV Rentals
Guided Tours
www.AIRPORTSHUTTLEDTW.COM
DEARBORN, Michigan
Southern Cruzin RV Rentals, LLC
Northport, Alabama
Boston Pizza Tours
Boston, Massachusetts
AIRPORT SHUTTLE TO DOWNTOWN DETROIT
Detroit Airport Shuttle to Cobo Center
Airport Shuttle DTW
RV Rentals, Motorhome Rentals, Class A Rentals, Class C Rentals, Travel Trailer Rentals.
Got Pizza? Discover historic Boston slice by delicious slice! Mixing Food, Fun and History like ne
ATN EXPRESS LIMO SERVICES
SNELLVILLE, Georgia
Glamis RV Rentals
Glamis , California
Sinister Stories of Salem
Salem, Massachusetts
Limousine Services
Trailer Rentals serving the Glamis Sand Dunes & Gordons Well areas - Our Glamis Rentals can be deliv
Sinister Stories of Salem is an hauntingly magical walking tour that takes you through downtown Sale
Miles Lane Transportation
Encinitas, California
Expedition Motor Homes & 1st Choice RV
Los Angeles, California
Paddle Moab
Moab, Utah
Miles Lane Transportation combines a casual atmosphere for your family and fun trips and a professio
We offer a large selection of Class A and C motor homes both gas and Diesel Pushers.
River SUP'ing is gaining increasing popularity in river communities like Moab where there are beauti
1 SHO4U Taxi
Fredericksburg, Virginia
RentForFun National LLC
Nampa, Idaho
T.A.S. Lodging
Fort Payne, Alabama
We are a customer oriented company, we are looking to make a difference in the Taxi Cab service in t
Rent For Fun.com specializes in renting RV's Boats, and ATV's located all over the United States
Vacation getaways at Little River Canyon near Mentone and Fort Payne.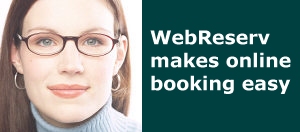 Get Listed!
Get your business listed on WebReserv.com, the best online booking system, and you can start accepting online bookings right away without having to buy new software or hardware.
Everything you need can be handled on WebReserv.com, from setting up your products and rates to managing the bookings - and best of all, you can start using it right away.
Advertisement