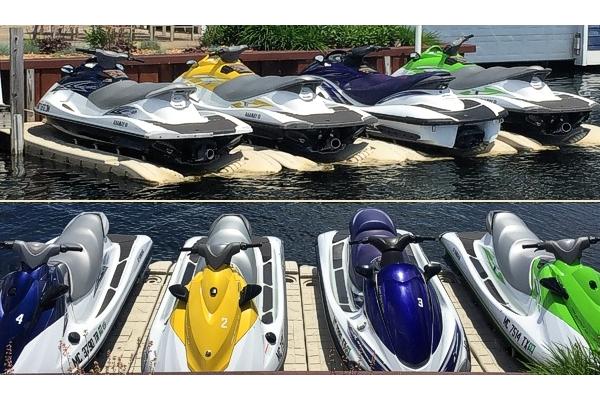 About Windjammer Marina
Waverunner VX

Yamaha has designed a family-friendly PWC that will catch your attention in more ways than one. The new Yamahas deliver style, performance, and innovative features. It's a great way to explore Michigan's Inland Waterway.

Key Features Four-stroke,110-horsepower Yamaha Marine Engine - Progressive, Stepper Draft V-Hull with Integrated Bow Spray Guard - Multi-function Electronic Information Center - Remote Controlled Transmitter - Yamaha Security System - 19 Gallons of Total Storage - Comfortable One-piece Seat - Extra Large Boarding Platform - Mirrors - Reverse Low-RPM™ Mode and Security Mode

We also deliver to Walloon Lake, Burt Lake, Mullet Lake, Douglas Lake, and Paradise Lake with a 3 DAY MINIMUM

Rates do not include gas. No refund for early return. Waverunner must be returned by 4:30 P.M. pre-season (May-June 15), 5:30 P.M. in-season (June 16-September 9) and 4:30 P.M. post season (September 10-October). If you are late you will be charged $45.00 per half hour or fraction thereof. A $20.00 cleanup fee is charged for Waverunners returned excessively dirty. A 6% use tax will apply to all rentals.

CANCELLATION POLICY: Cancellations received prior to scheduled departure date are subject to a forfeiture of total deposit. Due to the very short boating season, the Windjammer Marina has a no refund policy in effect. If hazardous weather conditions prevail, a change of date for the rental would be preferred by the marina. If a new date is not acceptable, then a return of your deposit would be granted.

~ ALL PRICES ARE SUBJECT TO CHANGE WITHOUT NOTICE ~

If you need help, please contact us!