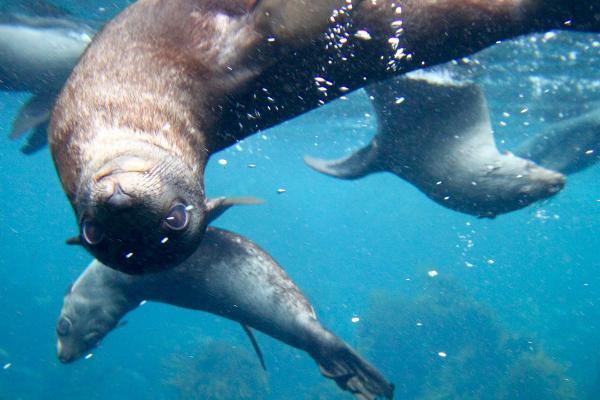 About Wild Ocean Tasmania
Jump aboard the Ocean Prowler and join us on an unprecedented coastal adventure along the edge of Tasman National Park, only 1 hour South of Hobart. Seize a once in a lifetime opportunity to get whisker to whisker with wild fur seals and other fascinating marine life, safely suspended on a world first sea-view platform. Rugged up in toasty drysuits and geared with mask and snorkel, you're ready to dip your face in the water and immerse yourself into a different dimension. No need to carry heavy diving gear, change clothes or even swim.

Gaze through some of the worlds last giant kelp forest. Feel the dynamics of spiraling bait balls. Watch seals play in their element and dolphins surf the wake of our boat.

Anything is possible. Everyday brings a new chance for a very special experience.

This new eco-tour is tailored to those who want to be exposed to the elements, who share a passion for the marine environment and those who want to help put something back. All our trips ensure minimal impact on the environment and serve as a basis to support our private wildlife rehabilitation work.

We'll get you wet, we'll keep you warm, and we promise to make your time in Tasmania an unforgettable one.