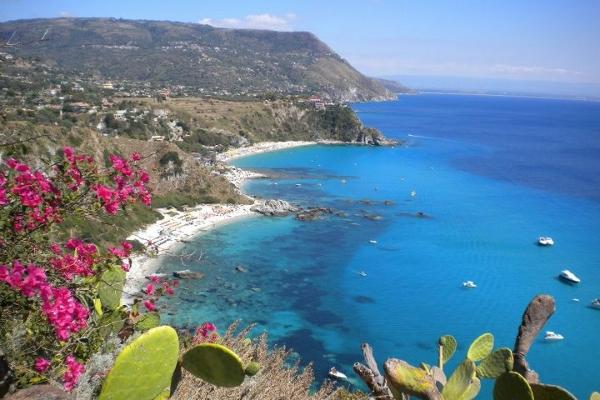 About Visitcalabria
You can see it in its people, habits and lifestyles and even in some communities which still speak a dialect deriving straight from the language of the ancient Greater Greece inhabitants! The clear waters of the Mediterranean seas frame this charming land, which Ulysses once roamed, remote villages, Byzantine monasteries and hill towns overlooking the Calabrian plains complement this fascinating tour.

Note: This tour is valid throughout the year and it has flexible dates, customizable to fit your travel dates, for further details: tourguide2005@libero.it

Day 1

After your arrival in Reggio Calabria, Airport or Train Station, where you will be welcomed by your guide, you will visit Palazzo Campanella to see the Riace Warriors, unique bronze statues from the5th Century B.C. You also walk through the city and enjoy its Promenade, "Italy's most beautiful kilometer". Take a VIRTUAL TOUR of Reggio Calabria!

Day 2

You walk around the fishermen's village of Scylla, the same one mentioned in Homer's Odyssey. Later, you visit Tropea and Cape Vatican, popularly called "the Gods' Coast", where white-sand beaches alternate with rocky coastlines. Take a VIRTUAL TOUR of Scilla!

Day 3

In the morning, you visit Pentedattilo, an abandoned village on a hand-shaped rock, inhabited since Greek times. The surrounding area provides rich possibilities for walks in a wilderness inhabited by the descendants of the ancient Greeks who once settled here. In the afternoon, you visit Bova Superiore, considered as the moral capital of The Greeks of Calabria, the so called (Chòra tu Vùa), where from its ancient Norman Castle, you can have an incredible view of the surrounding areas. Take a VIRTUAL TOUR of Pentedattilo!

Day 4

Today, you visit the Aspromonte mountains, whose highest peak is Montalto (1956m). Gambarie, a typical mountain village with its picturesque Rumia lake, where it is possible to fish trouts in a still unpolluted nature and enjoy the genuine Calabrian food . You can also visit the historic place where our National Hero, Giuseppe Garibaldi, was injured on these mountains. Take a VIRTUAL TOUR of Aspromonte!

Day 5

Today's highlights include the towns of Locri, on the Ionian sea, where you will visit the Archeological Park, housing the remains of one of Italy's most important Magna Graecia cities. Then, you visit Gerace, a medieval town, full with with Byzantine churches and monasteries (known as the Florence of the South). The huge Cathedral, built over the ruins and St. Francis' church with its unique, baroque marble altar. Take a VIRTUAL TOUR of Gerace!

Day 6

Today, you visit the so called "Byzantine island, not an island though!" around Mount Consolino. Stilo and its unique Byzantine church, the Cattolica, Pazzano with its Monte Stella Sanctuary, an amazing church, right into the heart of the mountains, with rocks hanging over the altar. In Bivongi, you visit Saint John Therestis Monastery, where you can meet Greek monks, coming straight from Mount Athos in Greece. A walk up to the Marmarico Falls, one of Italy's highest waterfalls is also possible, on demand. In the late afternoon, your guide helps you on your way to your next destination with a transfer to Reggio Calabria train station or airport for easy connections to Rome. Take a VIRTUAL TOUR of Stilo!