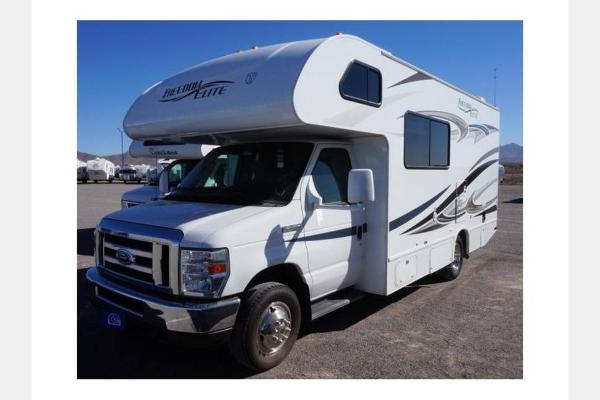 About ViaRV LLC(Seattle)
*Sleeps: 6
*Length: 24 feet
*Class C
*Chassis: Ford E350

Suitability
Minimum Age: 25
Driver license (Including international driver license)
Pet-Friendly: No 
Smoking Allowed: No

Automotive Features
Transmission: Automatic
Engine Size: Liter V10
Fuel Tank Capacity: 55 gal
Fresh Water Capacity: 50 gal
Gas Water Heater Capacity: 6 gal
Generator: 4KW Onan MicroQuiet
Liquid Propane Gas Capacity: 40.9 pounds
Cruise Control;Power Steering

Amenities
25000 BTUs Furnace;Roof Air Conditioner 13,500 BTU
3-burner high-output cook top with oven;Refrigerator/Freezer
Smoke, LPG, carbon monoxide detectors;Microwave oven
Entry door with dead bolt lock;Fire Extinguisher

Disclaimer
• In locations with harsh winter weather, our motorhomes are "winterized" from approximately mid-October to late March. This mean we have completely drained the water and holding tanks. This will prevent the tanks and pipes from freezing and bursting.
• If you chose to have your rental motorhome" de-winterized" (so that you can use your sink, shower, and toilet) it may cost up to $40. You will need to run the heater at all times to protect the tanks and pipes from freeze damage, or in extreme cases, you would need to put RV Anti-Freeze in the water and holding tanks (by doing so, you may not use any water systems). 
• If the pipes or tanks were damaged from freezing, it is considered the negligent damage and you will be responsible for the full cost of all repairs. If you have any more questions on the rental policies during winter, please contact the rental center where your trip would originate. They can provide you with specific information.