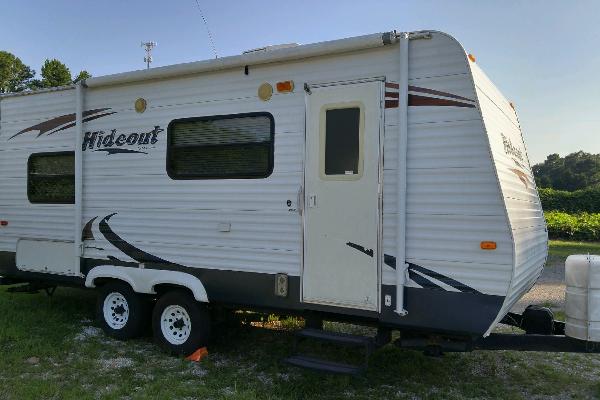 About Southern Cruzin RV Rentals, LLC
This is a 2009 Hideout by Keystone Travel Trailer. This Travel Trailer is very light weight and is spacious inside due to the layout / floorplan and has lots of storage space inside. It will sleep 6 to 7 people.

In terms of sleeping space, the Hideout has Queen Master Bed, a Single Bunk Bed over the Master Bed (folds up if not needed), Sofa that converts to a Twin Bed, and the Dinette Table converts to a twin bed as well. This unit is equipped with a full kitchen and full bathroom, Indoor/ Outdoor surround sound with AM/FM Stereo w/CD player and AUX adapter port, and an Outside awning.

This unit also has the following features: Outside Awning, Scissor stabilizing jacks, Heat & A/C, fully self-contained with 45 gallon fresh water tank, 6 gallon hot water tank, 70 gallon gray water tank and 32 gallon black water tank. Full Kitchen with a stove/oven range, microwave, refrigerator & freezer, counter-space & a double sink. Lots of storage cabinets & closets inside & out. Full Bathroom with Tub/Shower Combo and Toilet separate from the sink / vanity / cabinet / mirror with cabinet.

Technical Information: The lights & water pump run off of the house battery or electric, the refrigerator/freezer runs off of LP Gas or electric/generator, the stove/oven, water heater & furnace runs off of LP Gas, A/C runs off of electric/generator only. Electrical hook-ups or a generator with a minimum of 30 Amps of service is needed to run the A/C, microwave or anything plugged into the outlets. We do have portable Generators available to Rent for $50 per night (an additional $300 refundable security deposit is required for the generator rental).

Tow Vehicle & Towing Information . . .

Dry weight of this 19' travel trailer is 4,300 lbs. dry weight and approx. 4,700 lbs. if filled completely with fresh water. The tow rating & hitch receiver for the tow vehicle must be approved prior to making a reservation. Any 1/2 ton pick-up truck or larger is fully capable of towing this travel trailer. Please call our office for tow ratings on your vehicle, if needed.

The tow vehicle will need to have a standard 2" square hitch receiver. We do provide the hitch package with the 2 5/16" ball, ball mount & equalizer bars with all of the travel trailer rentals.

The tow vehicle MUST BE EQUIPPED (prior to your pick-up dates) with a Round 7-Pin Bargman wiring connector and an Electric Brake Controller. (Electric brake controllers are available at most Auto Parts stores, Walmart, Camping World or U-Haul stores. We do also carry Electric Brake Controllers and wiring harnesses in stock here in our parts store and can install them to your tow vehicle for the cost of parts and labor, based on the year, make and model of your truck - which would have to be scheduled in advance.) A BRAKE CONTROLLER IS MANDATORY FOR ALL TRAVEL TRAILER RENTALS and must be installed in the tow vehicle PRIOR to your pick-up date (otherwise installation fees will apply). This will be inspected on pick-up date, and we cannot allow any travel trailer to leave our lot without having a break controller installed and properly working in the tow vehicle (If you are UNSURE if your vehicle has this, please call our office for more details or visit our main website to view these requirements at http://www.southerncruzinrvrentals.com/towing--specs).

The tow vehicle must have Liability Insurance coverage that extends from the back of the truck to the end of the trailer (this info. is verified at time of reservation). At departure, a copy of the Tow Vehicle's Insurance card will be made. The renters name must match the name on the insurance card or be listed as an additional driver. While being towed, the travel trailer may not be occupied by passengers. Please call for details.

CONVENIENCE PACKS . . . We also offer convenience pack items that can be added to your rental for your convenience!

The KITCHEN PACK consists of a can opener, toaster, coffee pot w/filters, kitchen utensils, pots, pans & bake ware, 6 plates, bowls & silverware incl. steak knives, 4 coffee cups, colander, dish drainer, 2 hand towels, pot holders, & wash clothes, 2 garbage cans w/bags, broom & dustpan @ $60.00 each.

The LINEN PACK consists of 3 to 4 sheet sets, 3-4 blankets, bath mat, 6 bath towels, 12 wash clothes, and 4 hand towels (pillows are not included) @ $75.00 each.

~ THE KITCHEN & LINEN CONVENIENCE PACK COMBO IS $125.00 ~

...CAMPING & TAILGATING ITEMS...

WE OFFER THE FOLLOWING CONVENIENCE PACK ITEMS:

6'' Long Outdoor Table @ $40 each
5' Long Folding Outdoor Table @ $40 each
Lawn Chairs 2 for $15
Coolers @ $10 each
Plastic & Paper Products Pack includes paper plates, plastic utensils (spoons, forks & knives), paper towels (2 rolls), napkins, alum. foil, & lg./sm. ziploc bags @ $25 each.

Please call for more details on any of the Convenience Pack items or e-mail us a request for pictures.

DELIVERY, SET-UP & PICK-UP SERVICES . . . We offer delivery, set-up and pick-up services up to 125 miles from our location. All Delivery services must be approved by management. Approval based on availability/schedule.

WE DO NOT OFFER ONE-WAY RENTALS. All rental units are to be picked up and returned at our Northport, AL location.

Our RENTAL UNITS MAY NOT be brought into Mexico or any other hazardous areas.