Southern Cruzin RV Rentals, LLC
Northport, Alabama
Class A & C Motorhome Rentals
Class A & C Motorhome Rentals
Class C Rental Units
Class A Motorhome Rentals (Gas & Diesel)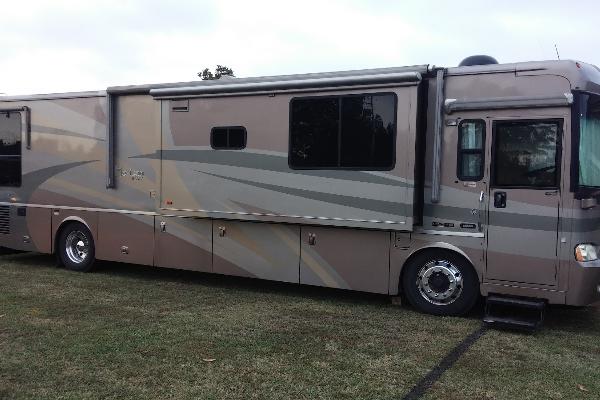 Class A Diesel 40' w/3 slide-outs, very luxurious and loaded with options!
Travel Trailer Rental - 2015 Puma Palamino w/2 slides, Outdoor Kitchen & more!
Travel Trailer Rental Units (Pull-behinds)
Travel Trailer Rental Units (Pull-behinds)
Our Service Shop and Parts Store
Southern Cruzin RV (Rentals, Service, Parts, Storage, & More)
Specials
To see current deals and specials, click here
---
Southern Cruzin RV Rentals, LLC Features
All of our Rental Units have all of the following features:

~ Full kitchens and dining rooms including a dinette table, microwave, stove/oven range, refrigerator and freezer, kitchen sinks and plenty of cabinets and storage space.
~ Full bathrooms including a shower and/or shower/bathtub, lavatory, sink, mirror/vanity and bathroom cabinet.
~ Master Bedroom with a Queen Bed
~ TV Antenna w/antenna boosters

All of our Class C and A Motorhome Rentals have the following features:

~ AM/Stereo/CD Player w/surround sound
~ Color TV(s) with remote w/VCR and/or DVD
~ Plenty of under-storage cargo storage
~ Our Class A Rentals also come equipped with slide-outs for more space inside, hydraulic leveling jacks, electric steps, back-up camera's, large bathrooms with 3 large separate and individual areas, large understorage cargo space, and more!

CONVENIENCE PACKS . . . We also offer convenience pack items that can be added to your rental for your convenience! . . .

The KITCHEN PACK consists of a can opener, toaster, coffee pot w/filters, kitchen utensils, pots, pans & bake ware, 8 plates, bowls & silverware incl. steak knives, 4 coffee cups, 2 hand towels, pot holders, & wash clothes, 2 garbage cans w/bags, broom & dustpan @ $60.00 each.

The LINEN PACK consists of 3 to 4 sheet sets, 3-4 blankets, bath mat, 6 bath towels, 12 wash clothes, and 4 hand towels (pillows are not included) @ $60.00 each.

~ THE KITCHEN & LINEN CONVENIENCE PACK IS $60.00 EA. OR BOTH FOR $100.00 ~

CAMPING & TAILGATING ITEMS — We also offer the following Convenience Pack Items . . .

6' long Outdoor Table @ $40 each
Outdoor Lawn Chairs @ $10 each
Coolers @ $15 each
Small Charcoal Grill w/charcoal & fluid @ $20.00
Small Electric Grill @ $20.00
Small LP Gas Grill with LP Canister @ $20.00
Bike & Cargo Rack (for Class C & A's only) - mounts to receiver hitch (holds up to 3 bikes) @ $40.00 each
Plastic & Paper Products Pack includes paper plates, plastic utensils (spoons, forks & knives), paper towels (2 rolls), napkins, alum. foil, & lg./sm. ziploc bags @ $15 each.

Please call for more details on any of the Convenience Pack items or e-mail us a request for pictures. We also offer the convenience of adding additional drink or food items per your request for an additional service fee (including the cost of the items added).

DELIVERY, SET-UP & PICK-UP SERVICES . . . We offer delivery, set-up and pick-up services up to 150 miles from our location in Northport, Alabama. Delivery Fee is $2 per mile each way (round-trip).

WE DO NOT OFFER ONE-WAY RENTALS. All rental units are to be picked up and returned at our Northport, AL location.

Our Travel Trailers may not be brought into Mexico or any other hazardous areas.
---
Southern Cruzin RV Rentals, LLC Attractions
We are located only 3 miles from Lake Tuscaloosa (Binion Creek Boat Landing), just 15 miles north of the Bryant Denny Football Stadium in Tuscaloosa, AL, 12 miles from Lake Lurleen State Park, just 65 miles south of the Legion Field Football Stadium in Birmingham and the Birmingham Airport, just under 3 hours from the Auburn Football Stadium, 2 hours from the Talladega Superspeedway, 20 miles from the Stilman's College Football Stadium, 4.5 hours north of Gulf Shores, AL, 3 hours West of Atlanta, GA and just 4 hours south of Nashville, TN.

Rent an RV from us to tailgate for a football game, for a Nascar Race or simply for a family road trip or camping vacation! Travel in style in the comforts of home away from home with one of our RV Rentals!
---
~ IMPORTANT! PLEASE READ ALL OF THIS INFORMATION, AS IT IS REQUIRED TO READ & UNDERSTAND THESE TERMS PRIOR TO BOOKING YOUR RV RENTAL RESERVATION. ~

DEFINITIONS – "Agreement" means all terms and conditions found in this form, any addendum and any additional materials we provide at the time of rental. "You", "your" or "Renter" means the person identified as the renter on this form, any person signing this Agreement, any Authorized Driver and any person or organization to whom charges are billed by us at its or the renter's direction. All persons referred to as "you", "your" or "renter" are jointly and severally bound by this Agreement. "We", "our" or "us" means the rental company named on this form. "Authorized Driver" means Renter and any additional driver(s) listed by us on this Agreement, and any person defined as an authorized driver of a rented vehicle in a law of the State where the Vehicle is rented, provided that each such person has a valid driver's license & is at least 25 years of age. "Vehicle" or "Unit" means the recreational vehicle, motor home, or travel trailer identified in this Agreement & any vehicle we substitute for it, and all its tires, tools, accessories, equipment, appliances, keys and vehicle documents. "Loss of use" means the amount calculated by multiplying the number of days from the date of damage to the Vehicle until it is repaired times the daily rental rate in effect on the date of rental for vehicles of the same type. "MBA Choice" means a motor vehicle liability, collision and comprehensive insurance policy Renter purchased from a third party.

RENTER QUALIFICATIONS – RENTER MUST BE 25 YEARS OF AGE OR OLDER, must have a valid driver's license and a major credit/debit card and must be currently covered under an auto insurance policy (or at least 21 years of age if Renter has chosen to include delivery services & will not be driving the RV at any time during rental period). At time of reservation, All Renter(s) must provide correct & proper personal identification, employment, credit references & personal Auto Insurance information. ALL INFORMATION WILL BE VERIFIED AND AN MVR & BACKGROUND CHECK WILL BE PERFORMED ON ALL RENTERS. Renter & any additional drivers must be present at time of pick-up or delivery and must present his/her driver's license in person for verification. WE RESERVE THE RIGHT TO REFUSE ANY APPLICANT OR RESERVATION AT ANYTIME.

ADDITIONAL DRIVERS – Authorized Drivers MUST be at least 25 years of age and may be added to Rental Agreement at time of reservation (or at least 3 days prior to pick-up date). NO ONE other than driver(s) listed on Rental Agreement is permitted to drive rental vehicle at any time (including the return of RV). Each authorized driver is responsible for providing Proof of Insurance (binder or certificate) in his name only. We are not responsible for any damages or Insurance Claims involving an accident if these rules are not met.

RENTAL PERIOD & RENTAL LOCATION – Southern Cruzin requires a TWO (2) NIGHT MINIMUM rental period for all RV Rentals. WE DO NOT OFFER ONE-WAY RENTALS – All rental units are to be picked up and returned at our facility located in Northport, AL.

CHARGES AND PAYMENTS – Upon Confirming Renters' Reservation in our system, Renter approves and agrees for Southern Cruzin RV Rentals, LLC to process a $300.00 Reservation Deposit to hold and confirm their RV Rental Reservation and agrees for Southern Cruzin RV Rentals, LLC to process Final Balance Due of Rental charges 30 days prior to pick-up or delivery date (or 60 days in advance for all special events rentals) using the credit/debit card(s) listed on this reservation form; Reservations made within 30 days of rental dates require immediate full payment. If payment is not received within 30 days of rental, payment will be made by any additional driver listed in Rental Agreement. If renter chooses to pay cash or money order, said renter must either mail or drop payment off at Southern Cruzin RV office. If someone other than the Renter listed on the RV Rental Reservation or Agreement wishes to offer any type of payment in any method other than cash or pay for security deposit authorization to go towards said Renters RV Rental, the other party must be added to the Rental Agreement as an "Authorized Renter/Driver", must sign the Rental Agreement and must provide all of their personal information in order for this payment to be accepted.

Renter agrees to pay Southern Cruzin RV Rentals, LLC (or the appropriate government authorities) on demand for all charges due under this Agreement, including, but not limited to:
• Additional Time for rental period during which Renter keeps the Vehicle, or a mileage charged based on our experience if the odometer or its seal is tampered with or disconnected. Rental Unit must be returned by 5PM (or 30 minutes before dark) on the return date, otherwise there will be an additional nightly rate fee charged upon return to the Renter
• Mileage & Generator Use (for Motorhome Rentals only): All Nightly Rates include 125 Free Miles per day. All Additional Miles used is .75 cents per mile. Total Round Trip Mileage is to be determined and included in the total rental cost at the time the reservation is placed. Any additional unused paid mileage during rental period is refundable. Generator Use: Renter receives 4 free generator hours per night, all additional generator hours used is $3.50 per hour. Generator Packages are available to purchase: 6 hours Package @ $18 per night or Unlimited Package @ 60 per night.
• Road Ready Fee - There is a one-time mandatory Road Ready Fee charged to all RV Rentals: $150 for Travel Trailers, $200 for Class C's, $250 for Class A Gas Rentals and $300 for Class A Diesel Rentals. The Road Ready Fee covers Emergency Roadside Assistance, full tanks of propane, full tank of fresh water, chemicals and toilet paper, extensive sanitation, cleaning and preparation of RV before and after each rental;
• Administration Fee – There is a one-time Administration Fee of 2.5% applied to all RV Rental Reservations.
• Charges for optional products, convenience items and services Renter elected to purchase
• Fuel in Motorhome – if Renter returns Rental Vehicle with less fuel than on pick-up/departure date, fuel cost and $25 fuel service fee will be applied
• Waste tank dump fees – if black and gray water tanks are not empty upon return, a $100.00 fee will be applied
• Applicable rental, sales, use and other taxes. Alabama Rental Tax is 1.75%. Alabama Sales Tax is 9%.
• All traffic, parking and toll fines, penalties, forfeitures, court costs, towing, impoundment and storage charges and other expenses involving the Vehicle assessed against us or Vehicle, unless these expenses are our fault
• All expenses we incur in locating and recovering Vehicle if Renter fails to return rental unit or if we elect to repossess Vehicle under the terms of this Agreement, plus $5/mile for every mile between renting location and place where Vehicle is returned or abandoned, plus any additional recovery expenses we incur
• All costs, including pre- and post-judgment attorney fees, we incur collecting payment from Renter or otherwise enforcing our rights under this Agreement
• A 2% per month late payment fee, or maximum amount allowed by law (if lower than 2%) on all amounts paid after date Vehicle is returned
• Returned Checks – A fee of $35 charge or maximum amount permitted by law, whichever is greater, if Renter pay us with a check returned to us unpaid for any reason
• Cleaning Fees - A $35 per hour cleaning fee is applied if customer does not return RV in same cleanliness than on the pick-up/departure date, or if there are any additional tears or stains in carpet or upholstery upon return.
• Transfer Service Fee – if Renter should need to transfer Reservation dates from original dates reserved, there will be a $25 transfer service fee applied to rental.

RESERVATION DEPOSIT & ACCEPTED FORMS OF PAYMENT – A down payment of $300.00 is required at the time of reservation to secure and confirm RV Rental Reservation. The reservation deposit goes towards the Total Rental Charges and is subtracted from total balance of rental charges. Renter authorizes Southern Cruzin RV Rentals, LLC to automatically process the $300.00 Reservation Deposit immediately upon receipt. The final balance of total rental charges are due 30 days prior to rental pick-up or delivery (or 60 days in advance for all special events rentals) . Renter authorizes Southern Cruzin RV Rentals, LLC to automatically process the Final Balance Due of Rental charges 30 days prior to pick-up or delivery date (or 60 days in advance for all special event rentals) using the credit/debit card(s) listed on this reservation form. If Reservation is placed within 30 days of the departure date, the Total Rental Charges are due immediately at the time the Reservation is placed. We accept ALL MAJOR CREDIT CARDS, CASH, CASHIER'S CHECK, BUSINESS CHECK OR MONEY ORDER (all checks must be received 30 business days or 60 days for special event rentals) prior to rental date). Fees are subject to AL State Rental Tax of 1.75%.Business Checks are accepted & must be received 30 days prior to pick-up date (or 60 days in advance for all special events rentals). Credit Card Payments must be arranged and processed at least 30 days prior to first day of rental period (or 60 days in advance for all special events rentals).

SECURITY DEPOSIT – A Fully Refundable Security Deposit in the amount of $1,000.00 for all Gas Motorhomes, $1,500.00 for all Diesel Class A Motorhomes and $500.00 for all Travel Trailers IS REQUIRED ON ALL RENTALS and is completely separate from the Rental Charges. The security deposit must be processed 1 to 2 business days prior to pick-up or delivery date. If a credit or debit card is used for security deposit, funds are processed as an "Authorization" only & will be held until the rental unit is returned. The Security Deposit WILL BE REFUNDED or released within 7 to 10 business days as long as Rented Vehicle is returned in same condition as it was on the day of pick-up or delivery, if there are no damages (inside or out) or any items missing or broken from the unit, waste tanks are returned completely empty, gas tanks on Motorhomes are full upon return, or if rental unit has not been involved in an accident. Mileage and Generator Fees may incur, based on total amount purchased and paid for in advance. All Additional Mileage Fees are .75 cents per additional mile; Additional Generator Hours are $3.50/hr. Any additional charges due at the conclusion of the rental or any insurance deductibles will be charged against the security deposit (authorized funds) with the balance of the amount being released. A vehicle inspection form is filled out on the pick-up & return dates & MUST BE SIGNED IN PERSON by Renter. We may use your deposit to pay any amounts owed to us under this Agreement, for Insurance deductibles (if Renter were involved in an accident), for any damages or items missing upon return of rented vehicle, for waste tanks not empty or fuel tanks not returned completely full.

REFUND POLICY - Any prepaid estimated mileage that was not used during rental period will be refunded. Nightly Rate Refunds are given if the RV engine is mechanically broke down for 24 or more consecutive hours in which the break-down was not your fault. NO REFUNDS will be given for early returns or for loss of use/time due to inclement weather during your rental period. NO REFUNDS will be given for Cancellations made within 30 days of your rental period (or 60 days in advance for all special events rentals). However, the renter has the option to transfer rental dates, based on availability, up to 6 months, for a $25 transfer service fee.

CANCELLATION POLICY - All RV Rental Reservations are subject to the following Cancellation Fee: There is a $100 Cancellation Fee for all Reservations cancelled at least 31 days prior to the pick-up/departure dates and the remaining $200 reservation deposit would be credited/refunded back to Renter. Reservations cancelled less than 30 days prior (or 60 days prior for special event rentals) to rental are subject to full rental fee, unless renter chooses to transfer their rental dates for a $25 transfer service fee. Should Renter choose to cancel their reservation after the Renters Total Rental Charges have been processed, Renter WILL NOT receive any type of Refund of the Rental Charges/Payments that were already processed. However, Renter would have the option to transfer their rental dates, based on availability, up to 6 months, for a $25 transfer service fee.

MAINTENANCE AND BREAKDOWN RESPONSIBILITY
• Customer agrees to obtain prior authorization from Southern Cruzin RV Rentals, LLC immediately for all repairs/replacements to RV, or renter will be fully liable for all these expenses, and all damages that may result from improper repair or replacements. Renter will be reimbursed/credited for any repairs or maintenance that was approved in advance after receiving receipts.
• Renter is responsible for checking engine oil, fluids, coolant levels and tire pressure at each refueling, as well as reporting any mechanical failures immediately.
• We are not liable for renter's expenses due to unforeseen breakdowns beyond our control; and we do not give additional refunds/credits or compensation due to lost time from a mechanical unforeseen breakdown.
• Customer is responsible for all damage or repair due to negligence or failure to provide maintenance while renter is responsible for rental unit.
• In the event rental unit is in breakdown repair for 24 hours or more, through no fault of rental customer, our responsibility to the renter is limited to refund of daily rate or portion thereof OR rental car cost reimbursement, as well as any towing expenses for RV. (Radio, automatic step, air conditioning, refrigerator, microwave and appliances, cruise control, & generator malfunctions or breakdowns are not considered breakdowns and no refunds are available for repair to these items.) If RV is broke down for 24 hours or more and Rental Customer should need a car rental to return home from that location, upon approval from Southern Cruzin RV Rentals, LLC the Rental customer will be reimbursed/credited for any car rental that is necessary for Renter to secure to return home.
• Any windshield or window damage will result in replacement. This is for safety considerations. MBA insurance does not cover this cost, unless associated with collision or comprehensive incident.
• Damage to any part of the RV is the sole responsibility of renter. Renter agrees to financial responsibility for the repair/replacement of all damaged items.

CONDITION AND RETURN OF VEHICLE – Renter must return Rental Vehicle to Southern Cruzin rental office on the exact date and time specified in this Agreement AND in the same exact condition customer received RV, as noted on vehicle inspection sheet, except for ordinary wear. If Rental Unit is returned after closing hours & Southern Cruzin has not been notified that customer returned the RV, Rental Customer remains responsible for the safety of and any damage or theft to, Rental Vehicle until rental unit is inspected upon next business day. Service to Rented Vehicle or replacement of parts or accessories during rental must have our prior approval. Customer must check & maintain all fluid levels and air in tires during rental period. IT IS IMPERATIVE THAT CUSTOMER MAKE WIDER TURNS AT ALL TIMES. When backing up, make sure to have a spotter in the rear with driver side window down to hear the spotter's directions.

INSURANCE COVERAGE FOR MOTORHOME RENTALS – Insurance coverage is MANDATORY for all authorized drivers. Insurance coverage is void in Mexico. Lessee must obtain lessor's written authorization and purchase special insurance before entering Mexico. Regardless of party at fault, renter agree to be responsible for all damage(s) to said Motorhome and/or equipment resulting from collision, or other accident or loss renter cause to others. Renter has either provided Southern Cruzin with an insurance binder indicating that renter has primary motor vehicle liability, collision and comprehensive insurance covering Renter, Southern Cruzin, & Rented Vehicle, or Renter has elected to purchase MBA Choice. If renter elected to purchase MBA Choice: (i) Damage to Rental Unit is covered by MBA Choice, with a deductible of $1,000 per occurrence paid by renter. (ii) Auto liability insurance is part of MBA Choice, and provides coverage for bodily injury and property damage caused by Renter to third persons with limits no higher than the minimum levels prescribed by the financial responsibility laws of the State whose laws apply to the damage or loss. MBA Choice covers $2,000 medical payments or PIP, No-fault and statutory limits for uninsured and under-insured motorist coverage. Coverage is void if Renter violates the terms of this Agreement or if renter fails to cooperate in any loss investigation conducted by Southern Cruzin, or the insurer (MBA). Allowing an unauthorized driver to operate the Vehicle terminates MBA Choice. (iii) Renters are responsible for all damage(s) to the Vehicle and damage(s) or injury renter cause to third parties that is excluded by the MBA Choice policy, or that is in excess of MBA Choice policy limits.

INSURANCE COVERAGE FOR TRAVEL TRAILER RENTALS – The Tow Vehicle that will be towing the travel trailer MUST be covered by Auto Insurance in which liability coverage extends to the end of the travel trailer in tow. If liability coverage does not extend, Renter will NOT be authorized to Rent or Tow a Travel Trailer, unless extended liability coverage is added to tow vehicle's policy. Tow Vehicle's Insurance I.D. Card must be presented for verification on day of pick-up.

NO SMOKING POLICY – All of our Rental Units are NON-SMOKING units. If there is any indication that there was any smoking in the Rental Unit, you will be charged a minimum of $200.00 for any and all upholstery and carpet cleaning that is needed upon return. This policy is in effect due to allergies and insurance requirements.

PET POLICY: Pets are not allowed in any of the rental units unless they meet the following requirements: There is a $200 fully refundable pet fee that is required for all pets (in addition to security deposit) as long as the pet is small (under 25 pounds), DOES NOT SHED, is fully house trained and well mannered. There is a limit of two (2) small pets per rental unit. CATS & ANY OTHER TYPES OF ANIMALS ARE NOT ALLOWED IN RENTAL UNITS DO TO ALLERGIES AND SHEDDING. The $200 pet security deposit is fully refundable if all of pet hair is completely vacuumed throughout the RV and there are no damages to any part of RV inside including upholstery, wood trim, seats, beds, carpets, floors, etc.

DELIVERY & PICK-UP SERVICES – Southern Cruzin offers delivery and pick-up services up to 125 miles from office location. Delivery and pick up service may approval, depending on location and dates reserved. Renter will be notified if delivery services cannot be approved for their dates. If renter chooses to include Delivery and Pick-up Services, RENTER IS COMPLETELY RESPONSIBLE FOR FINDING AND SECURING THEIR RV PARKING SPOT and it is recommended to be reserved as early as possible. RV parking address, location and space number is required to be given to Southern Cruzin at least fourteen (14) days prior to delivery date. THE COST OF FUEL IS NOT INCLUDED IN THE DELIVERY SERVICE FEE FOR BOTH THE RV & SECOND VEHICLE FOR DELIVERY DRIVER (BOTH WAYS). FOR MOTORHOME DELIVERIES: At the end of your rental period, the cost of GAS that is used during rental period to run generator and/or to deliver and pick-up RV, as well as fuel in second vehicle for driver, will be automatically deducted from Security Deposit Refund. FOR TRAVEL TRAILER DELIVERIES: At the end of rental period, GAS that is used for tow vehicle to deliver and pick-up the travel trailer will be automatically deducted from the Security Deposit Refund.

TOWING – Towing with any of Southern Cruzin RVs motorhomes requires prior permission at time of reservation. A $100.00 towing charge will apply. RV's are not wired for electric brakes. Trailers over 3,000 lbs. are not allowed and gross weight towed must not exceed 5,000 lbs. SOUTHERN CRUZIN RV RENTALLS MOTORHOMES DO NOT PROVIDE COMPREHENSIVE, COLLISION OR LIABILITY INSURANCE COVERAGE FOR DAMAGE TO THE TOWED OBJECT OR ITS CONTENTS, OR FOR ANY THIRD PARTY INJURY INFLICTED BY THE TOWED OBJECT.

ROADSIDE ASSISTANCE - We offer Roadside Assistance on all of our rentals. The fee for Roadside Assistance is included in Road Ready Fee. Roadside Assistance is available 24 hours a day, 7 days a week for the following services: Engine or Transmission Problems, Chassis Problems, Tire Blowouts or replacements, lock-out, or fuel services. Southern Cruzin representatives are also available 24/7 to answer any questions or assist renters with any problems that may occur during rental period. If RV Rental Unit is broke down or needs to be serviced and/or is unable to be repaired within 24 hours; Southern Cruzin needs to be notified within six (6) hours of incident in order to be reimbursed for towing expenses and the nightly rate refund for the length of time the RV is being repaired (in which Southern Cruzin will need all original paid receipts).

TIRE FAILURES OR BLOW-OUTS - During rental period, if renter scrapes any of the tires, runs over any curbs or any type of object, inspect the tire immediately for any cuts, tears, rips or gouges that are considerably deep, which could cause the tire to fail. Make sure renter equally and properly distributes the weight of personal belongings brought on board. Be aware that tire pressure is affected by change of temperature and elevation. If renter suspect a tire problem or hear the shredded tire hitting vehicle, PULL OVER and STOP immediately to see if there has been a blow-out and if so, call Auto Club of America to come to service and replace tire. In the event that there is a flat tire or a blow-out during rental period, Renter are completely responsible for towing, roadside assistance labor/service fee, and/or for new tire to be replaced or repaired (just as if it was your own vehicle). However, If the tire failed due to a manufacturers defect, we will pay for the tire to be replaced and THE FLAT TIRE(S) MUST BE RETAINED AND RETURNED WITH RV for us to inspect upon return.

ENGINE PROBLEMS (MOTORHOME RENTALS ONLY) - If the engine begins to overheat – PARK IT immediately! Turn OFF engine to let it cool down. Renter is totally responsible for ANY and ALL DAMAGES to engine caused by overheating (going past red line) due to any reason! If the "Service Engine Soon" light remains lit or ON after the engine has cooled down, call Auto Club of America (for roadside assistance and/or towing the RV).

SUBSTITUTION – In the event specific RV is unavailable prior to rental dates, we reserve the right to substitute Renter to a comparable model (based on availability and pricing). Should a lower grade model be offered and accepted, rates will be reduced to that units current rental cost.

FAMILIARIZATION TOUR – A familiarization tour is required to acquaint renter and all drivers with the operation of rental unit at the time of departure and will take approximately 30 to 60 minutes. Please allow this time when scheduling to pick-up rental unit for final paperwork processing and for a familiarization tour (inside and out) and test-driving rental unit (if needed).

RESPONSIBILITY FOR DAMAGE OR LOSS: REPORTING TO POLICE – Renter is responsible for all damage to, or loss or theft of Rented Vehicle, which includes cost of repair, loss of use while rental unit is being repaired, or payment to us of the actual cash retail value of Vehicle on date of loss, if Vehicle is not repairable or if we elect not to repair it. Renter is responsible for all damage or loss caused by blowouts, punctures or other road damage, unless the damage is caused by a "loss" that is covered by a collision or comprehensive claim. Renter is also responsible for loss of use, diminished value of the Vehicle caused by damage to it or repair of it, and our administrative expenses incurred processing a claim, whether or not Renter are at fault. Our Administrative Fees connected with any damage claim, regardless of whether renter is at fault, is as follows: $35 per hour at a minimum of 2 hours, depending on time involved to submit and handle the entire claim. RENTER MUST REPORT ALL ACCIDENTS, INCIDENTS OF THEFT AND VANDALISM TO THE POLICE IMMEDIATELY. RENTER MUST REPORT ALL ACCIDENTS INVOLVING THE VEHICLE OR ANY TYPE OF BODY DAMAGES TO SOUTHERN CRUZIN WITHIN 6 HOURS OF OCCURRENCE. A FULL WRITTEN POLICE ACCIDENT REPORT MUST BE SUBMITTED TO US UPON RETURN. FAILURE TO COMPLY WILL RESULT IN FORFEITURE OF SECURITY DEPOSIT. Renter agrees to pay these above charges from credit sources listed in rental contract, & assumes all responsibility to submit accident report and claims to the proper authorities.

PROHIBITED USES AND RESTRICTED AREAS – The following uses of Rented Vehicle are prohibited & constitute breaches of this Agreement. Vehicle shall not be used: (a) by anyone who is not an Authorized Driver, or by anyone whose driving license is suspended in any jurisdiction; (b) by anyone under the influence of any drug or alcohol; (c) by anyone who obtained the Vehicle or extended the rental period by giving us false, fraudulent or misleading information; (d) in furtherance of any illegal purpose or under any circumstance that would constitute a violation of law other than a minor traffic violation; (e) to carry persons or property for hire; (f) in any race, speed test or contest; (g) to carry dangerous or hazardous items or illegal materiel; (h) outside the United States, Canada or geographic area indicated elsewhere in this Agreement; (i) when loaded beyond its capacity as determined by manufacturer of Vehicle; (j) on unpaved surfaces, "logging" and other non-public roads, except at campgrounds. Also, travel through extreme desert areas (such as Death Valley in AZ) during hot periods is prohibited; (k) to transport more persons than the Vehicle has seat belts, or to carry persons outside the passenger compartment; (l) to transport children without approved child safety seats as required by law; (m) when the odometer has been tampered with or disconnected; (n) when the Vehicle's fluid levels are low, or it is otherwise reasonable to expect Renter to know that further operation would damage Vehicle; (o) in a manner that causes damage to Vehicle due to inadequately secured cargo; (p) after an accident with Vehicle unless and until Renter summon the police to the accident scene; (q) to transport an animal that is not approved in advance; (r) sitting, standing or lying on roof of Vehicle is prohibited.

YOUR PROPERTY – Renter release Southern Cruzin from all claims for loss of, or damage to, your personal property or that of any other person, that we received, handled or stored, or that was left or carried in or on Vehicle or in any service vehicle or in our offices, whether or not the loss or damage was caused by our negligence or was otherwise our responsibility.

RENTAL, INDEMNITY AND WARRANTIES – This is a contract for the rental of Rental Vehicle. We may repossess Rented Vehicle at Renters expense without notice, if Vehicle is abandoned or used in violation of law or this Agreement. Renter agree to indemnify us, defend us & hold us harmless from all claims, liability, costs and attorney fees we incur resulting from, or arising out of, this rental & use of Vehicle or our repossession of it. We make no warranties, express, implied or apparent, regarding Vehicle, no warranty of merchantability and no warranty that Vehicle is fit for a particular purpose.

MODIFICATIONS – No term of this Agreement can be waived or modified except by in writing that we have signed. If Renter wish to extend the rental period, Renter must contact us directly at least 48 hours prior to Renters return date/time for a written amendment by us of the new due date. Additional nights added to rental will be charged to your credit card on file, unless otherwise indicated. This Agreement constitutes the entire agreement between renter and Southern Cruzin RV. All prior representations and agreements between Renter & Southern Cruzin regarding this rental are merged into this Agreement.

MISCELLANEOUS – A waiver by Southern Cruzin of any breach of this Agreement is not a waiver of any additional breach or waiver of the performance of renter's obligations under this Agreement. Our acceptance of payment from Renter or our failure, refusal or neglect to exercise any of our rights under this Agreement does not constitute a waiver of any other provision of this Agreement. Unless prohibited by law, Renter releases us from any liability for consequential, special or punitive damages in connection with this rental or the reservation of a vehicle. If the Vehicle is inoperable for more than 24 hours, our liability to Renter is limited to the daily rental rate times the number of days the Vehicle is inoperable. If any provision of this Agreement is deemed void or unenforceable, the remaining provisions are valid and enforceable.

TERMS AND RATES SUBJECT TO CHANGE WITHOUT NOTICE – Any additional or revised terms will be disclosed in advance & given to Renter at the time the Rental Agreement is signed.
---