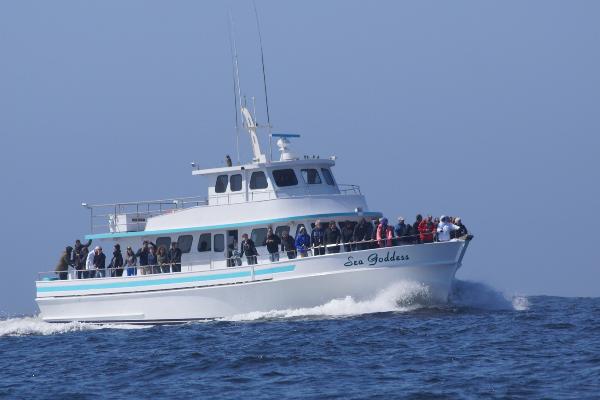 About Sea Goddess Whale Watching
Sea Goddess Whale Watching Rated #1 Whale Watching in central Monterey Bay and Moss Landing. Plan your day on Monterey Bay with Sea Goddess Whale Watching as your adventure begins in the quaint fishing village of Moss Landing, with the harbor located directly at the mouth of the Monterey Bay Submarine Canyon. This means less travel time and more whale watching time! The Sea Goddess, is a pristine vessel Coast Guard certified for up to 93 passengers and manned by crew with more than 40 years experience.

As we head out of the marina, you will enjoy some of our inner coastal marine mammals such as the sea otter, harbor seals, and a variety of sea birds. Directly out of the harbor is where all the whale activity begins! Keep your eyes open for the largest animal on the planet – the Blue Whale, our acrobatic Humpback Whale, and our lovable gray whale, and the fascinating Killer Whale. Safety and comfort are our top priority for all our guests. So scream, point and delight with others on this adventure of a lifetime!

Sea Goddess Whale Watching

Coast Guard Certified for up to 93 Passengers
360 degree walk-around deck for views from any angle
Outside bench for comfort and taking a quick break
Never used as a fishing boat – pristine clean and not stinky
Comfortable inside cabin with sofas
Two clean bathrooms on board
Experienced Captain
Fully Narrated with our on board Marine Biologists

For more information visit http://www.seagoddesswhalewatch,com today!