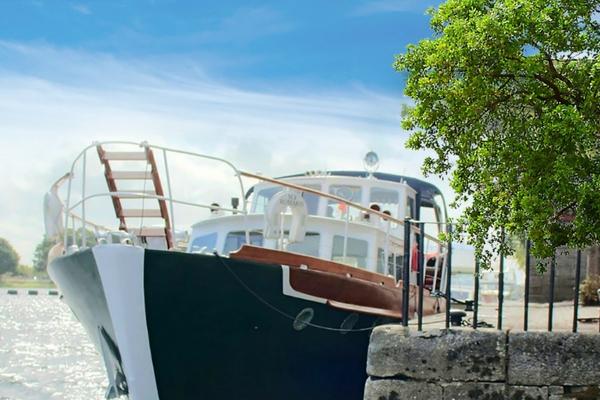 About Romaris Motor Yacht
Lough Ree and Hare island Cruise
Departs Athlone Castle almost daily at 12.00 pm,2.00 pm and 4.00 pm

Lunch Cruise
Available on our 12 pm cruise.
A wonderful way to enjoy the beauty and tranquility of Lough Ree as we cruise up the Shannon and onto the lake itself.
Leaving Athlone behind we cruise up the west shoreline of lough Ree passing Hodson Bay before turning east at Nuns island and then onto Inishturk and Inishmore, it is from here you get some wonderfull sunsets as you look across the width of Lough Ree, before heading down to Hare Island. 
Good food in beautiful surroundings,the very best of  fresh local produce, prepared freshly every day on board . 

Afternoon Tea Cruise
Available on our 2 pm and 4 pm cruises.
Join us for one of our most popular cruises. This afternoon tea adds something a bit special to the cruise not only are you able to cruise the Shannon and lough Ree on a classic motor yacht, you get to sample a most delicious afternoon tea whilst doing so!
The afternoon tea experience includes an assortment of delicate finger sandwiches, petit fours, freshly baked scones and cakes and loose teas. 

Dinner Cruise 7 pm
What could be nicer than sitting on a boat enjoying dinner as you watch the river traffic go by.
Almost every evening we will be moored on the quay wall at the"left bank"beside Athlone Castle where we will be serving French flavors with an Irish twist
We love to use fresh locally sourced ingredients (organic where possible) and are dedicated to fresh and imaginative food.