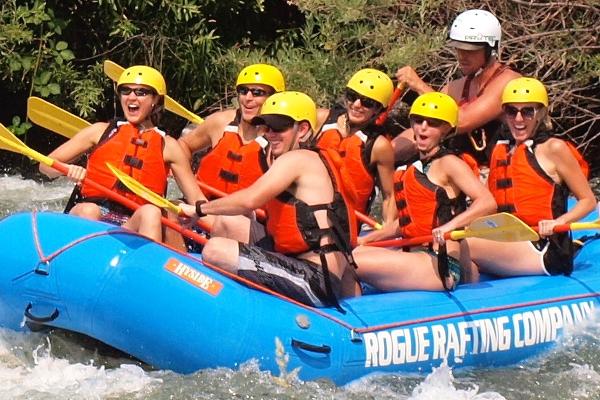 About Rogue Rafting Company
Trip Length: 7 miles / Time Required: approximitley 3 hours / Class: I - IV
Age Requirement: 8 years or older

This is a adrenalin packed rafting trip that is great for the first time rafter or an experienced river rat! The two largest runnable rapids on the Rogue River are lurking on this section of river. "Nugget Falls" (also known as Hayes Falls) and "Power House" (also known as Ti'lomihk Falls) both hold a class IV rating based on the standard whitewater rating system. This stretch of river is unique because it begins in calm mellow current and gradually progresses in rapid size and excitement level. Each team of paddlers will build their skills and confidence on multiple class I and II rapids before Challenging what the Rogue River has to offer. This first stretch of the trip has some crowd favorites such as "Ol Slippery Rock", "Bitterman Falls", and "The Surf Wave". Midway through the adventure we meet with our first class IV challange "Nugget Falls". After your first big rapid of the day you are rewarded with a calming drift down a mellow section of the river. This will give you just enough time to enjoy a refreshing drink and a quick snack. The trip finishes with an exciting finally at "Power House" rapid, one of the most breath taking spots on the whole river. This section of river offers many wildlife viewing opportunities. Common sitings include waterfowl, osprey, eagles, beaver, otters, Mink, black tail deer, Salmon, turtles, black bear, and much more. The trip is suitable for children 8 years and older. There is an opportunity for any of our guests to walk around the two class IV rapids if needed. Groups of all sizes are welcome and trips can be customized to certain interests.
*Trip length and rapid classifacation is dependent on water flow.