Realou
Franschhoek, South Africa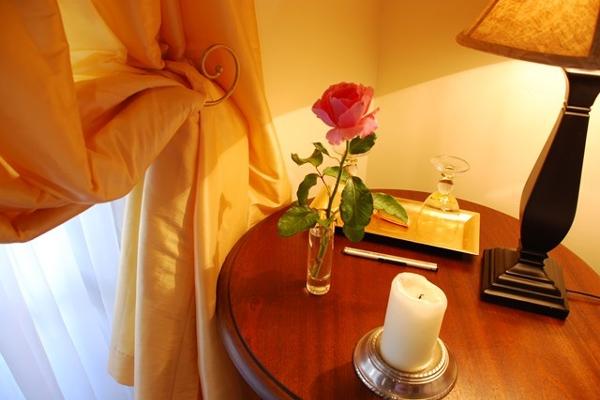 Realou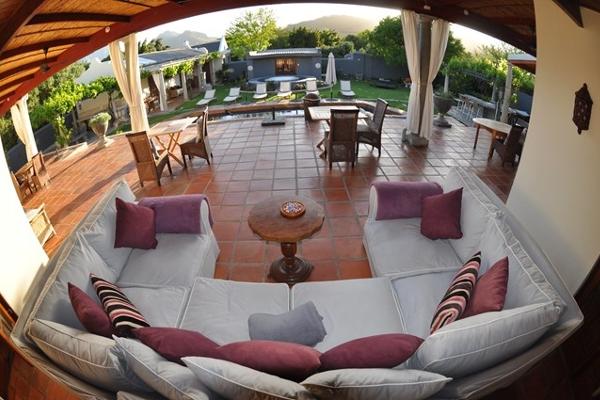 Realou
The Cape Dutch Suite is on van Wijk Street side and is part of the Main House.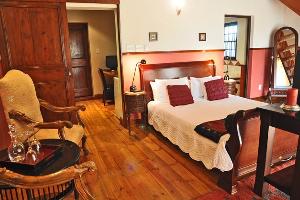 Honeymoon Suite, in Main House, Queen, Mezzanine level with 2 Single Beds & couch, Fans, TV, Heaters, Kitchenette with coffee station, Sink, Fridge, Marble Bathroom with Spa Bath, Walk in shower, Table and Chairs on V...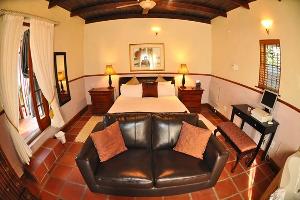 Spa Suite Garden Cottage, Queen, Open Plan Spa Bath, TV, Separate toilet & Shower/ Kitchenette (Bar Fridge, Coffee station, Microwave- Basic Utensils -Sink -Toaster- Kettle-Extractor ), Leather Couch, Veranda Table Chai...
---
Realou stretches across a block on both van Wijk and Cabriere Street on the bottom exclusive vineyard half of Franschhoek Village. Realou is a historical monument painstakingly restored with yellow wood beams quarry tiles, Oregon Flooring, Corrugated Roofing and Cape Dutch Gable. Each suite has its own private outside entrance so your comings and goings are unrestricted. Each Suite has a selection of satellite TV channels and for those with their own laptops 10 megabytes of WiFi Access. Some of the rooms have their own Spa baths but all have walk in showers. Realou has all the comforts one could need to provide a peaceful and restful environment for enjoying the many Gastronomical and Aesthetic delights of this quaint little countryside village situated in the heart of the Wine lands. Safe, secure and private Guests can feel at home while sunbathing next to the pool or having a barbecue with friends. This is just the escape needed to recover from ones hectic travels or a busy city lifestyle. Realou Franschhoek is a block away from Franschhoek best restaurants and within walking distance to at least three of Franschhoek's wine farms and wine tasting venues. Franschhoek, only 80 km or 45 minutes from Cape Town, is ideally placed en route if you are travelling to or from the Garden Route, Route 62 or Hermanus over the Mountain Pass. It is also less than 30 minutes from Stellenbosch and Paarl.
---
Franschhoek also known as Franshook, Franshoek or French Corner. Is situated at the base of the magnificent Drakenstein Mountain Range. And one of the four Passes out of Cape Town Franschhoek, GPS Coordinates of -33.91.0824, 19.11.7586 with its snowy peaks in the June July winter periods and luscious Green Vineyards was previously called Olifants hoek. Afrikaans for Elephant Corner because of the many elephant herds to be found there. This was later renamed Franschhoek in 1688 by French Huguenot refugees, many of whom were given land by the then Dutch government. There are unfortunately no more elephants to be found in the area but the town boasts many of South Africa's Best Restaurants and vineyards
---
T&C

2) Confirmation: Reservations are only confirmed when Realou has received the Applicable deposit payment. There are three ways to confirm the reservation.
a. If the deposit is paid via credit card then a valid, duly completed and signed "Credit Card Payment Authorisation" For our records and to satisfy increasingly onerous banking conditions relating to the use of your credit card -please sign the attached invoice and fax it back to us on (+27) (0) 880218763355. The (0) can be omitted if dialling from outside South Africa. If dialling from within South Africa the number will start with 088 This is an internet fax so the 0 in the (021) must NOT be removed. This number is, thanks to Telkom, longer and therefore confusing- but it works. must be faxed to Internet Fax (+27880218763499) or a scan of the Credit Card Payment Authorisation can be e-mailed to bookings@realou.com. Our Bank, in order to prevent fraud, have recently introduced a new" Card Not Present " authorization requirement and we are now required to also take a signed manual imprint of the Credit card used.
b. If the deposit is paid via Cash Deposits to: Absa Account Nr: 4071053426, Branch Code: 632005, Account Name: Realou Franschhoek (Pty) Ltd. Preauthorization of Credit Card for balance of Stay Cost will be required at check-in. When paying deposits to third party it is important to do this timeously as these companies normally deduct a commission from this deposit and pay on the balance to Realou. There is sometimes a delay associated with this process so it is advisable to not use this system when making short term reservations.
c. The deposit can be paid by providing credit card payment authorization through Nightbridge Secure Pay bridge System . A link will be sent to you that sets up the transaction.
d. Once we have processed the deposit we will send you a receipt of the payment as well as confirmation of the reservation.
It is your responsibility to check the document(s) and ensure that all of the dates and prices and other details are correct.
When sending the confirmation document(s) to you, we always ask you to review the document(s) and submit - return the completed form as a receipt. However, not sending a confirmation of the data's accuracy doesn't influence the fact that the reservation is made the moment we have received the deposit as set out in the confirmation document(s). Accommodation and services will only be provided in accordance with the details in the confirmation e-mail. In case the details on the document(s) are incorrect, you should contact us immediately.
3) Deposits at 100 % prepayment for accommodation bookings on one night stay. 50 % deposit on longer stays. All Wedding Anniversary Birthday Bookings at 100% prepayment. All stays longer that 2 days, will need signed Credit card Pre-authorization for Total Cost of Stay at Check In.
4) Changes: Any material changes to the booking at the request of the Guest may be subject to an admin fee of R100. This changes include arrival or Departure Dates, Room Requested, Number of Days stayed all of which affects Operational scheduling for a Guest house with limited accommodation capacity.
5) Cancellations: The loss of one rooms turnover effectively wipes out any possible Net profit for the whole day. Therefore all cancellations subject to 15 % Service Fee which is based on Total Stay Costs. No Additional costs of Cancellations up till 15 days to time of arrival. In order to allow us enough time to re let the suite a 50 % Cancellation Cost of Total Stay Costs if cancelled from 15 to 7 days. Less than 7 days or early departure (for whatever reason) will be 100% of Total Stay Costs. If the room can be re let then amounts owing and paid will be refunded less the Service Fee which is 15 %. In order to introduce greater accuracy in the booking process calls to Realou are normally recorded.
6) Smoking :It is reasonable to please request that No Smoking takes place in the Rooms. This way we can continue to offer other guests the option of non smoking rooms. If you still cannot resist the urge to smoke in bed please be aware of the Smoke detectors and the R200 "Spring Clean Charge"
7) Children Policy: Children under the age of 8 years old are only accommodated in the Family Suites. Families with small children are required to have breakfast in the Family dining room. Please see www.realou.com to establish prevailing rates and availability for children. Realou has private entrances and each family suite is separate from the others so any children experiencing difficulties won't affect the other guests. The Garden is enclosed so children can roam free without fear of traffic however. Please no loud diving and swimming before 8 am so that all guest have an opportunity for a natural wakeup. The pool, pond and Jacuzzi are unfenced so Adult Supervision is critical. Realou has roll in beds, Camp cots and Baby Dining room chairs. Realou is really child friendly. However we need to consider other guest who may have gone on holiday to escape from their children. What's the point of going on Holiday if you can't take your children.
8) Bed Sizes : All our suites have Queen beds which have the following dimensions 170 cm ( Wide) x 190 cm Long. If you need an extra big bed please reserve the Cape Dutch Room which has a King size antique bed.
9) Check Out 11am. Check In 14h00..
Realou will always try to get Guests to use the Pool and outside facilities for those who have early flight arrivals or late connecting departure flights. Although the room unfortunately needs to be vacated by 11am to allow cleaning in time for the next check-in we will always try and service those rooms last and store luggage for our Guests. Realou also encourages Guest to arrive early – even for breakfast, when wanting to spend as much of the day in Franschhoek as possible. If the suite requested is available early check-in may be possible. If you do want an early check in or late checkout we kindly request that you endure with us our daily 11am to 2 pm maintenance window timeframe which is vital to ensure the smooth operation of the Guest House ie cutting lawn, hanging out carpets to sun dry, lawn sprinklers, leaf blowers etc
10) Reservations: Our website can not stop you from making impossible bookings. If you make this kind of booking, we are unable to give you a refund neither are we obliged to accommodate the extra requirement, nor will it provide a reason for you to cancel the booking or ask for a refund. This is especially important when using third party websites or where confirmation is not received directly from Realou. It is your responsibility to ensure that all bookings made with us can be fulfilled by studying our Online Realou Bookings Conditions and confirming that these requested conditions are acceptable prior to making the booking.
11) Official Pricing and Conditions: There are Rouge companies who register domains in the name of a Realou name derivative and then funnel all enquiries into another booking system. Realou places its availability on the internet and uses nightsbridge synchronization for Instant Online bookings. The service provider it uses (https://www.nightsbridge.co.za/bridge/Search?bbid=10126) has agreements in place that allow this availability to be sold on the open market. This obviously creates logistical challenges when synchronising these third party offerings with Realou own official pricing, conditions and facilities on offer. In the light of this Realou Current official pricing and conditions is only availably from its own web site www.realou.com. Any other 3 rd. party pricing or service offering cannot be relied on unless these are in full sync (availability, pricing, facilities, pictures and conditions) with www.realou.com. If in doubt please email bookings@realou.com or call us on 27218763355. Realou cannot be liable for the failure of third party booking systems wrt their prices, conditions, specifications or availability claims.
12) Alternative Accommodation: In the event of Realou being responsible for an incorrect booking and being unable to fulfil its obligation of part or all of the booking Realou will do its best to arrange comparable or even better alternative accommodation but its liability in this regard will be limited to the daily rate quoted to the Guest and the deposit paid. Any extra charges will be for the account of the Guest. Should temporary accommodation be sourced for part of the stay Realou would, for any remainder of the guest stay at Realou upgrade the Guest. This is as always subject to availability. Realou would also offer, as compensation and subject to availability, an additional night free.
13) Disclaimer: On matters of a more serious note our insurance contract obligates us to deliver the following disclaimer. The guest further Indemnifies Realou for any Loss or Damage. Guests and their visitors enter and use these premises at their own risk. Neither the owners nor their representatives or agents are liable for loss or damage to guests or visitors property, nor for the injury or death of any guests or visitors, whether or not such loss, damage, injury or death is as a result of the negligence of the owners and/or their representatives.
14) Complaints: On your arrival you will be shown all the facilities related to your stay. If you are in any way dissatisfied with any aspect of your stay you are obliged to immediately bring it to the attention of the manger and in cases where the dissatisfaction is more serious inform Realou in writing ( Stationary is provided in the In Room Guide or you may TEXT Realou on +27795994766) ASAP. This will allow us an opportunity to immediately correct the problem so that we can ensure that you can enjoy your say with us. Franschhoek is a country town and access to parts and maintenance services is subject to availability. Failure to notify us of any problem will allow us to reasonably conclude that you are satisfied.
15) Free Internet: The cost of bandwidth in South Africa is amongst the highest in the world with Internet caps being applied to DSL lines. Roaming charged for Blackberry can be as high as R17 p/mbyte. Realou has a few 386 k DSL lines which have to be brought up manually if capped. This can leave other guests without Internet Capacity. Realou has often found itself out of bandwidth after the unexpected use from just one guest. Realou provides 15 megabytes of free internet Wifi services to its Guests per day.
The Guest in exchange for this capacity agrees to, prior to their departure, complete a short Online Diamond Review.
Realou would also please like each guest to post at least one special photo they took while at Realou or in and around Franschhoek on to the Following Facebook page http://www.facebook.com/pages/ReaLou-Guest-House/156541784369767. This review can be done online at reception – on your way out.
If bulk downloads are urgently required please make arrangements for Realou to open up its 10 mbps DSL line to assist you. All traffic is monitored via the Computer Mac address and all access over 10 mbytes will be charged for at R2.50 per megabyte over the 10 Mbytes cap.
16) Security: The Guest is requested not to provide non residents with the security code to the Main Gate or to give anyone the keys to the facility or their room. We also restrict the entertaining of guests on site who are not residents as we have a responsibility to our neighbours and other guests. Please be aware of who may be watching when you enter in the Gate Code. We have been, due to power outages, obligated to provide guest with a backup gate key. All calls to Realou are recorded for security and quality control purposes. The Guest also Acknowledge that common areas may be under CCTV Surveillance. No Smoking in Rooms and Rooms will be fitted with Smoke Detectors which are very sensitive to cigarette smoke. Please do not leave anything valuable lying in the car in full view in the off street parking area. Please put it in the boot or ask Realou to store it for you. Guest living in main house suites is requested to return the door to the locked state that they found it in before going to bed. These doors self-lock when closed. Please use the second turn lock as well. Each Suite has an external light to allow night entry. Please turn the light off on your veranda when done so that we can maintain a dark country star night life for all to enjoy. The use of any of the three Intercoms strategically located on an outside the property At Cabriere Street, Van Wijk Street and Main Veranda will allow all hours assistance in cases of emergencies. It is safe and close to walk to and from restaurants and shops on the main street at night.
17) Breakfast: Unless otherwise agreed all listed prices include Continental, Hot Breakfasts and Taxes. In the country our breakfast is from 8H30 -10H00 this allows a little later sleep. If you have to have breakfast before this time please order a Breakfast in Bed at an extra R150 per room or ask us to provide you with our Breakfast to Go ( no charge) which consists of (Salami Cheese Sandwich, Fruits Juices & Yoghurt ) available the night before. Extra breakfasts for your friends and family not staying at the Guesthouse is @ R75 per person. In room soft drinks at R15 per bottle.
18) Kitchenettes : Those suites which have kitchenettes are not designed for full blown culinary catering but are meant for simple meals.
19) Restaurants: Please reserve your restaurants tables asap as reservations are hard to obtain in the Season. Our Welcome pack has a list of contact numbers. The local restaurants are quite responsive to email enquiries. It will be necessary for you to provide your credit card details to some restaurants. Also expect to pay up to R1000 per person at the better known restaurants
20) TV: Realou has three satellite channels as well as Etv . We also have the local SABC " Offerings" If you have any special viewing preferences please let us know so we can do our best to assist.
21) Specials: Discounts and Specials are not cumulative but mutually exclusive & based on Prevailing Online Rack Rates. Ie you can't get 10 % for direct booking as well as Anniversary Birthday rate of less 30 % to end up with a 40% discount. Any Special rate does not attract all the services and offering that listed rates do. Please enquire if in doubt.
Children Rates Change depending on Period - See Online Availability Rates . Prices Quoted Include a Continental and Full Hot Country Breakfast (unless otherwise agreed). Online Prices are per person, email enquiries are normally Priced per Suite per Night Single Supplement Discount on Listed Price Depending on Online Availability and Peak Season. Prices always Includes All Taxes – no hidden extras or tourist levies.
Wedding Birthday Anniversary (WAB) Discount on Day of WAB only and Subject to availability. Please apply using WAB form. SA ID or Drivers Licence holders only.
The Jacuzzi is linked to the Pool Solar panels and chlorinated water. The filling of the Garden Jacuzzi, Weather Permitting, with extra Solar Geyser Hot water needs prior arrangement. We cannot fill the Jacuzzi with Hot Geyser water from 17-19h00 or 7h00 to 9h30 am as this drains our Geysers and interferers with the preparation for other guests getting ready for going out to dinner/ breakfast. Franschhoek is often under water restrictions so use of the Jacuzzi is subject to these conditions.
22) Refreshments- Realou provides refreshment drinks for the fridge in your room for your convenience. These are charged at a simple R10- R15 a bottle. The Tap / Faucet water is safe to drink as it originates from the local mountains. The local Pick and pay Daily also has a wine licence but sales are restricted to 18h00 and Monday to Saturday only. We therefore encourage you to bring your own local wine . As this is a wine tasting region spirits or beers are not permitted. We can provide you with a flask of Ice if you need it. The service intercom located on the veranda should be used if you need any refreshments or assistance. We do not charge for the welcoming drink. Extra Tea or coffee at the pool or veranda is @ R10
23) Gratuities: Realou does not structure its salaries based on expected Gratuities. Gratuities are extra for extra service. We know that tipping is a very powerful incentive for achieving the best possible satisfaction for our staff. We want satisfied staff because satisfied staff leads to satisfied guests. Tipping at 5 %, for good service only, is customary in South Africa and all Tips are paid to employees equally. Please add the tip to the bill so that we can ensure equitable distribution amongst all. We expect that you will get good service so we expect that you will tip. If you don't tip the staff will be disappointed and I will want to know at the daily staff meeting what was not done. Your short exit Diamond Awards will guide us. No pressure just a real measure to improved service from exceeding listed services above.

---