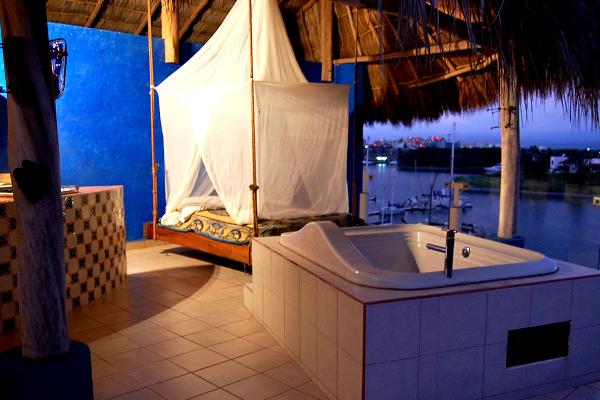 About PV Experience
Our two-level, 3 BR penthouse is a unique place for a memorable stay with family or friends. Enjoy a very private Jacuzzi bath under the moonlight or a relaxing siesta on the hanging bed with total privacy and solitude (except for the dolphins splashing below!). Or a sunrise breakfast with nothing above but sky. And it´s all in privacy – there are no direct views from nearby properties or streets onto the upper level.

Overlooking the marina waterfront in the upscale, gated Nuevo Vallarta community, the penthouse's unique location and design guarantee a memorable stay not possible in other condo or villa rentals. The large three bedroom condo has panoramic views of Puerto Vallarta, the mountains, marina, canal and El Tigre golf course, and partial ocean view. Also direct view of dolphin and sea lion shows at Vallarta Adventures.
The upper level has a huge outdoor terrace and hanging bed for relaxing siestas. The beach is 2 blocks away. Close to many excellent restaurants; bus stops, taxi rank, free Shuttle Bus to Paradise Village, convenience stores. Swimming pool. Dedicated Wi-fi for the suite.

The penthouse is actually two suites that are connected but separate. Together, they offer 3 bedrooms and 3 bathrooms and accommodate 10 people. You can also rent either one of the two levels if you need only a 1 or 2 bedroom suite.

We work with a very profession tour company fancy a trips from 1 to 14 days for 2 to 14 people including private chauffeur transportation, professional guide and accommodation,
in order to discover and experience some of México's wonders, from ancient pre-hispanic sites, beautiful colonial towns, vibrant cities to amazing natural beauties. We can adapt any of the tours to your customers requirements, preferences and budget.

Prices starting as low as $168 for a group of 6 2 days tour taste of jalisco.ask for details.