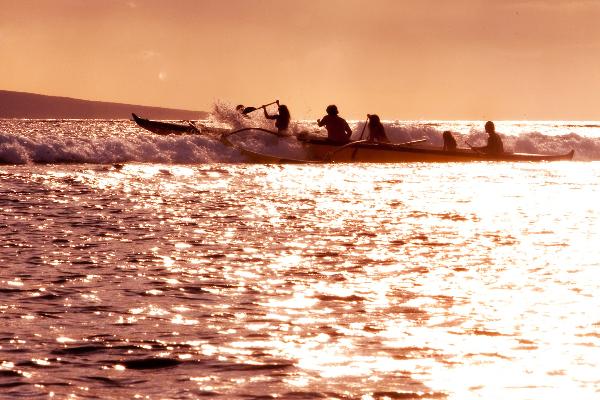 About Polynesian Canoe Adventures
Polynesian Canoe Adventures offers visitors a one-of-a-kind opportunity to participate in a Polynesian voyaging tradition and view the majestic beauty of Maui!

This is not a tour, this is an adventure...and it begins on sacred historical grounds once reserved for Hawaiian royalty. Learn first-hand how our ancestors came by canoe from across the Pacific Ocean with only the stars to navigate their way. Participate in a "Ha" Breath of Life ceremony and voyaging chant before hopping into the canoe to experience for yourself the ancient art of open ocean canoe travel.

Test your skill and courage by surfing the ocean waves in the canoe or go for a tranquil tour and simply kick back, relax, and enjoy the ride. Soak up Maui's stunning coastline, discover ancient local traditions, and play on the open ocean amongst whales, dolphins, turtles, and sea-life. A perfect way to enjoy an afternoon and make a Maui memory with family and friends!

We were created in support of Hui O Wa'a Kaulua, a non-profit Polynesian voyaging society with deep cultural ties to Hawaiian canoe sailing and to Hokulea. Hui O Wa'a Kaulua has built Mo'olele, Maui's only traditional double-hull voyaging canoe, and Mo'okiha O Pi'ilani, recognized as Maui's first and only transoceanic voyaging canoe. Polynesian Canoe Adventures truly is a one-of-a-kind opportunity for visitors to put down the history book and participate in a traditional voyaging experience. Touch these massive canoes with your own hands; learn the navigation calls and techniques from the master navigators themselves, participate in a voyaging chant, and paddle the ocean in the same sacred spot Hawaiian royalty launched their canoes from years ago.

Once back on land, enjoy a fresh-island fruit farmer's market buffet and learn to husk a coconut! Each participant receives their very own coconut; sip the juice, and enjoy. Drinks and water also included.

Never has an adventure like this been offered to the public before. Leave the noisy tourist traps and enjoy the beauty and traditions of this island within a small intimate setting. Tours limited to 5 people max. Special arrangements can be made for larger groups.