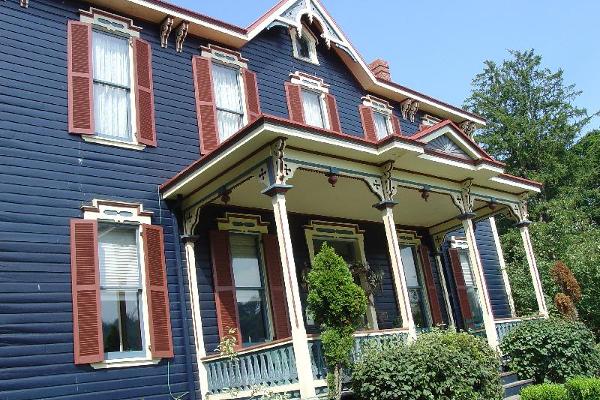 About Mellow Lane Bed and Breakfast
Come and stay at the elegant Mellow Lane Bed & Breakfast, perfectly located in the heart of the historic Port Dover. Enjoy our warm hospitality and discover one of Canada's loveliest towns and a national historic district!

Mellow Lane was originally built circa 1871 for military officers and their families. This beautifully restored home is open for the first time as a Bed & Breakfast. Original plank floors, a large veranda and lovely antiques bring you to a time past. New pillow top European plush mattresses, duvets filled with silk, LCD flat screen televisions and air conditioning bring you to the luxurious present.

Whether you are looking for some fun with a kindred spirit, a romantic getaway or a cultural adventure, Mellow Lane is the perfect starting point for all your activities in Dover. Located one block from shopping, spas, galleries, museums, and surrounded by historic sites, you can walk to your heart's content.

Enjoy a full course breakfast in our dining room or on the veranda, followed by a day exploring the area, shopping, golfing, cycling or strolling through history. Then relax on the veranda with a cool drink while you watch the horse-drawn carriages go by. Fill your evening with fine dining and excellent theatre or a starlit walk by the lake.

With ample free on-site parking, enjoy your entire stay and never drive anywhere if you wish! Relax in the front or back gardens or stroll through the historic neighbourhood. Picnic by the river or lake, or walk in the multitude of parks. At Mellow Lane we want make your stay as stress free as possible so let us know if we can arrange tours, spa visits or dinner reservations on your behalf.

Our three course specialized breakfasts will fill you for your days' adventures. Coffee, tea and light refreshments are available anytime, breakfast is served at 9 a.m. Breakfast will vary throughout your stay, always containing a selection of juices, fresh fruits, yogurts and breads, a savoury hot entree, sweets or cheeses and steaming hot drinks. Local and organic produce will be used when available and in season. If you have any special dietary needs or allergies, we will try to accommodate all requests with a few days' notice. We specialize in vegetarian, gluten free, lactose free and peanut free!

There's something to captivate everyone's interest in the stunningly beautiful setting of Port Dover.