Long Ridge Campground, LLC
Hiawassee, GA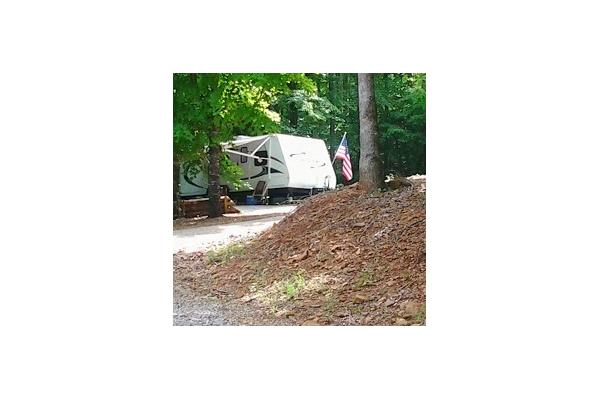 Sample 30 Amp Site - back in - sites 13, 14 and 15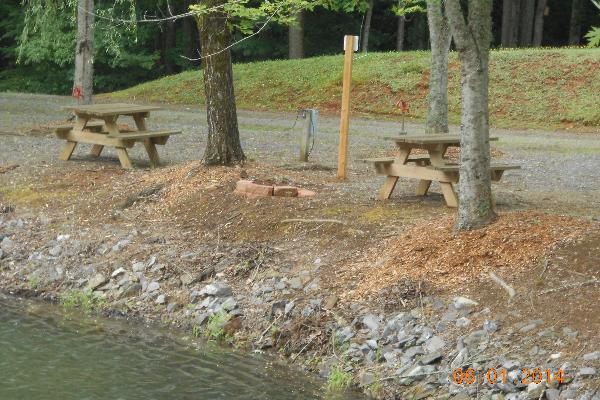 30 Amp Sites - back in - back up to catch & release pond
Daily
Notes
Extra Tent per Site
(1/1/16 - 11/30/18)
$8.00 per night. Can only be applied to full paying site. Does not increase the total number of people permitted per site.
Dry Storage Monthly
(1/1/16 - 12/31/18)
Safe and Secure, dry storage. No hook ups.

30 day min/increments.

Limited Availability
Extra Person Charge
(1/1/16 - 12/31/18)
$30.00
per day
All sites permit 4 persons. There is a $2.00/night extra person charge per site.
30 Amp Pull Thru
(1/1/16 - 12/31/19)
Nice mix of sun and shade situated on the pond. Convenient to bath house - but not too close.
Full hook up site with high speed internet WiFi access at site.
Can accommodate up to 65' long set up. Easy in/Easy Out.
Long Term Seasonal (7 Mo Min)
(1/1/16 - 12/31/18)
30 and 50 Amp Full hook up sites.

7 month minimum required for this rate to be valid.

Specify your required dates - pay the $150.00 non-refundable deposit. Deposit is applied toward final month's rent at check out.

Confirmation, followed by executed Lease Agreement will be forwarded by email. Please contact the office for copy of Lease Agreement.

50 Amp back in sites: 1 through 7
(1/1/16 - 12/31/18)
Long - 80' long and longer x 25' wide. All sites have 30/50 Amp service with water, sewer and free high speed WiFi internet access at site.
Each site has picnic table, lantern post and fire ring.

Extra Vehicle
(1/1/16 - 12/31/18)
$5.00/night extra vehicle charge per site
Tent Sites - Overflow - Admin Access Only
(1/1/16 - 12/31/18)
Admin Access Only.

Grassy overflow tent camping - dry camping no water or electric.

2 Picnic tables, 1 fire ring. Up to 12 persons.
50 Amp Sites : 16 through 19
(1/1/16 - 12/31/19)
Full hook up - back in sites.

Back up to happy "babbling" brook.

Nice shade.
30 Amp Sites
(1/1/16 - 12/31/19)
$30.00
per day
Assorted sites throughout the campground.

Back in, full hook up.

Partial shade
Monthly RV Site
(1/1/16 - 9/30/18)
30 Day Minimum. Camper pays electric which is not included in the monthly rate.
$50.00 electric deposit to be paid upon check in. This deposit will be returned or applied toward the final electric bill upon check out.
Seasonal RV site (3 Mos - 90 Day Minimum)
(1/1/16 - 9/30/18)
Limited availability. Sites are assigned by staff. Please indicate whether you need 30 or 50 amp service, the length of your RV and how many slide outs.

Seasonal is a 3 month/90 day minimum. Camper pays electric.

$150.00 Minimum/Non-Refundable deposit due at "check-out" to hold site.
This will be applied toward first month's rent at check-in.


Tent Sites
(1/1/16 - 11/30/18)
Primitive, private sites located next to a small
rushing creek.

Nicely shaded.
RV or Tent Electric and Water Only
(1/1/16 - 12/31/18)
Open, level sites. Next to bath house.

Nice overview of the entire campground and pond.

Perfect sites for the "sun" lover.
50 Amp Pull-thru Sites 26, 27 and 28
(5/21/18 - 5/20/19)
New 50 amp pull thru sites installed May 2018. Full hook up, electric, water, sewer, WiFi and trash pick up at your site. Sites are designed to accommodate the longer RV's - up to 45' plus tow vehicle.
Dry Storage On Campsite - Monthly
(11/1/18 - 3/31/19)
Dry storage. No Hook ups. Camper remains on their long term site.