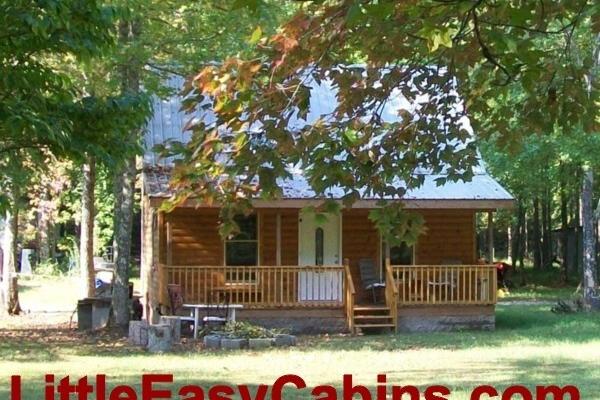 About Little Easy Cabins
On THIS site WebReserv.com,
We are ONLY listing the property.

To confirm your desired dates, YOU MUST PAY IN ADVANCE.
and through our website. Our web address is shown on our photos.
or go directly: http://LittleEasyCabins.com/

Even though you may have filled out the reservation form on this site.
Your dates ARE NOT CONFIRMED until payment is made.

We use the term "Cabin" very loosely. It is a completely finished house, with all the charm of a cozy cabin, however has all the amenities you will need for your relaxing retreat.

So that you'll be as happy & relaxed as we are . . .
We offer early check ins and late check out.
We live onsite and the property is large enough
to safely park your trailer, RV or boat off-street.

Depending upon availability, you may check in by 8 am and check out by 6 pm. Again We are little EASY Cabins, so if we have guests coming and going on the same days you are , Concessions may need to be made.
You will always be able to check in by 1:30 pm.

************************************************************
The 2-story cabin include Loft with King Bed, TVs (with Direct TV, DVD/CD player and VCR). The Main Floor has a Full- Double Futon, a Twin Sleigh Bed with Trundle to expand to a King, A/C & Heater Units, Ceiling Fans, Dining Area
and a fully stocked Kitchen and all linens provided.

Cabin is completely constructed of wood, with delightful cedar ceilings. The bathroom has a 34" shower stall and vanity with shelving storage for all you & your companions toiletries.
House is 24' x 20', Loft is 20" x 14'. Ample parking in rear for you pull behind or boat, by back door.

All Units have the following: (currently we only have One Unit)
All bedding, pillows, blankets & towels provided, pots, pans, dishes, detergent, silverware, microwave, coffee maker, toaster-oven, toaster, 14'x10" electric skillet, blender, crock pot, large 'foreman' grill, refrigerator (please note: NO indoor oven), Cabin does have a 2-burner unit, hair dryer, curling iron, iron & ice trays. Outside picnic table, BBQ Charcoal grill and side propane burner (you supply propane) & a sit-around campfire-fire pit. Cabin is completely furnished. IF you require a particular appliance, not presently in the cabin: extra-large (18qt) electric roaster, quesadilla maker + sandwich makers, larger crock pot, mixer, simply ask and it will be there upon check-in.

A Propane Grill is available for $20.00 Cash. (One full tank for the length of your stay.)

The cabin is stocked with towels and sheets once, upon check in. There is NOT daily housekeeping, towels or linen changes. There is a clothing line outside.

There are some staples already in the cabin: salt/pepper, coffee, tea, sugar, grits, and (hopefully) fresh eggs too! While it is NOT guaranteed, there usually are also salad dressings, jam, peanut butter, ketchup, mayo and mustard.

We are *Pet Friendly (see Bottom of this page for policy).

There is ample room for a tent on our property (possible added charge) as well.

PLEASE VIEW OUR GUESTBOOK HERE, we have placed map links to all the nearest, fastest, as well as best places to go (not necessarily the same). While we are less than 2 miles from the Interstate I-40, the nearest grocery store is 16 miles away and the nearest package store in 20 miles away.
LittleEasyCabins: find us ON line

If we do not have the cabin booked on the day of your departure,
you may check-out anytime before 6 pm.
That said, IF the cabin IS booked,
we ask that you check-out by 1 pm.
Reversely, you may check-in anytime after 8am,
IF, we do not have the cabin booked on the day of your arrival.

*************************************************************

Fully furnished. Pet Friendly*
We are 1.4 miles from exit 133,
but you would think you were in the deep country just where
the Tennessee River crosses I-40.
70 miles from Nashville and
120 miles from Memphis.

*
We have chicken / guineas who roam freely on the property.
Your pet must not harm them. IF your pet does murder them,
you agree to pay $75 per victim.

A dog-run & house is available IF your dog might be tempted.

A ONE-time Pet fee is $25.00 per pet.

More rules apply and you must sign a responsibility agreement
& give us a pet-deposit of $100 per pet (a check is fine, to be returned when cabin is okayed/cleared)

**

NO SMOKING INSIDE
No wet, untrained or destructive pets allowed inside.
Pet Deposit IS required & will refunded upon check-out.
NO bathing of pets inside.
LittleEasyCabins: find us ON line

***

Washer/dryer services available for an added charge.
Propane Grill & Propane bottles supplied for an added charge
Meals provided for an added charge
Paddle Boat is available for an added charge

****

We are a fully licensed, tax paying business.

YOU WILL BE REQUIRED TO SHOW A PROPER I.D.
and CREDIT CARD upon CHECK IN.

YOU WILL BE REQUIRED TO SIGN A RESPONSIBILITY &
DAMAGE CONTRACT UPON CHECK IN.