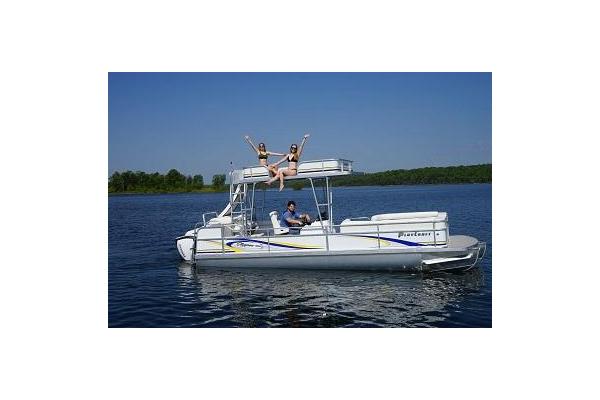 About Jordan Marina and Campground
26' Playcraft Tri-toon w/ Upperdeck and Slide. Boat has a 150 hp motor, radio, and tow bar. Maximum capacity of 15 people (more like 10-12 comfortably). No weekly rate July 1-10.

This boat is excellent for having a great day on the lake! It has an upper deck, a water slide, and the ability to pull tubes, skiers, and wake boarders. It is sure to be a hit with everyone. Sorry, no barbeque grills allowed on the boat. Pets are allowed for a fee of $25 per day or $100 per week.

Rental Rates:
$450 per day, plus tax on weekdays (Monday through Friday).
$500 per day, plus tax on weekends (Saturday or Sunday).
$500 per day, plus tax on holidays and holiday weeks (May 30th, July 1 - 10, and September 5th, 2022.)
$2250 per week, plus tax (excludes July 1-10, 2022). A week is 7 days and can begin on any day. July 1-10, holiday rate applies.