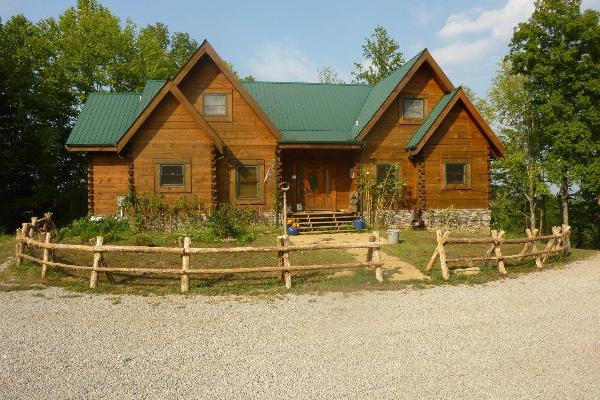 About Hidden Cave Ranch Bed and Breakfast
At the Hidden Cave Ranch Bed and Breakfast we have five beautiful decorated Guest rooms to choose from, all with air conditioning and ceelingfan. All our beds, tables and nightstands are "homemade" from cedar logs cut in our own woods. Rates as low as $109 per night, breakfast for two included. Add a extra room for only $79 or $99 . We can serve Homemade Pizza and Ice cream $10 per plate. Very nice three course dinner for $20 (adult) and $10 (child) .Try our unique indoor grill experience for only $30 (adult) and $15 (child).

The Bonus Room is where you can watch TV, play some pool or chess and have a drink or a snack. You can meet our Curly Horses or do some Horseback riding on our trails. On a sunny day you can discover Dale Hollow Lake. Cave exploring is excited too. Bring your boots or water shoes because we have to go through the creek.

When you have a special occasion or group event, book all five rooms that sleeps ten adults and two kids, for only $449 per night, breakfast for 12 is included. Family reunions, traveling groups, small meetings, retreats, wedding parties will enjoy the rustic cabin atmosphere at the Hidden Cave Ranch Bed and Breakfast. We are open for any suggestion to make your event a memorable one.


We are 2 hours from Nashville, 1,5 hours from Bowling Green and 1 hour from Cookeville.

If you have any questions at all, don't hesitate to ask me.