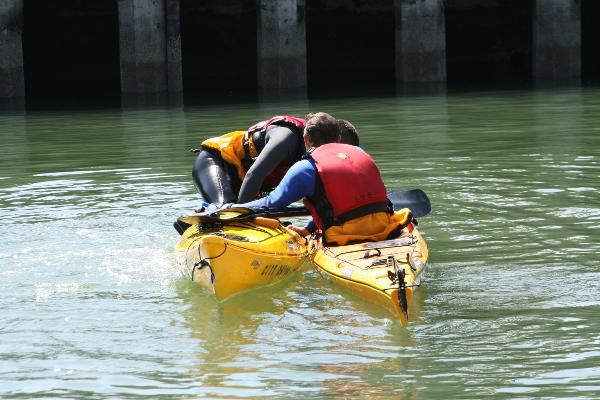 About City Kayak
Learn essential seakayaking skills- reentry to a seatouring kayak. Previous kayaking experience is recommended.

Reentry is a requirement in renting a seatouring kayak from most outfitters. In this class you will learn the proper skills and get valuable tips to avoid common mistakes.

After this class you will have a strong and fast recovery capabilities for yourself and be able to help others. Additionally you will enjoy paddling more with confidence knowing that you are able to handle a capsize anytime.

TOPICS COVERED:
This class will go over 2 commonly used recovery skills;
Solo Paddle Float Reentry - using a paddle float aid
Assisted T Rescue- easy reentry method with a buddy

Additional reentry skills will be covered if time allows;
Scramble, Leg Up, Stirrup Reentry, Hand of God, etc.


RESTRICTIONS
Participants should weigh between 60 lbs and 220 lbs. Previous kayaking experience is recommended, but not required. Ability to swim is helpful, but not required.

The weather in San Francisco can change from cold and foggy morning, warm at lunch time, windy in the afternoon. T-shirt, board shorts, wind jacket will keep you comfortable.

Bring a sunblock, sunglasses, hat, change of clothes in case you get wet. Also, bring your wetsuit if you have one(we provide one, but yours may fit better.)

Online booking closes early, sometimes days ahead. This class requires at least two participants, or it could be cancelled. Inclement weather may cancel the class.

We can NOT accept walk-ins for this event.