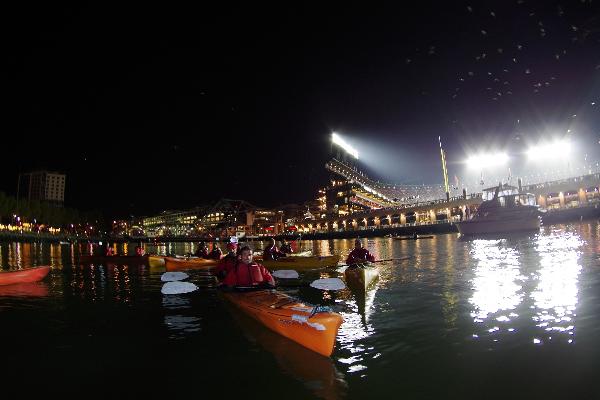 About City Kayak
We paddle to McCovey Cove for an evening ball game.

There are fireworks show after the ball game on 4/6 Friday and 6/22 Friday.

This evening paddle starts from South Beach to McCovey Cove, about 10 minute paddle. You will enjoy the view from McCovey Cove and maybe some paddle to Mission Creek if time permits. After the game, everyone will paddle back to South Beach Harbor with a guide.

This trip is not suitable for first time paddlers. It is an easy kayak trip but could be overwhelming for a beginner with little experience. The condition could be cold, windy, and wet. Please note the following requirements before joining the trip.

REQUIRED
Each person has kayaked once within 3 years.
Single or double tandem sea kayaks are used- one must be competent in operating a tandem kayak.
For this trip there is a height and weight limit; height between 4'5 to 6'4, weight between 80lbs to 200lbs , shoes size up to 13.

PADDLE LENGTH
Typically this trip goes like the following: check-in, trip briefing, gear up, launch, (first hour), paddle to tMcCovey Cove(10 minutes), enjoy the ball game at the cove(2-3 hours), return to South Beach Harbor after the show.

INCLUDES
Enclosed double touring kayak with rudder. Single kayaks are available for more experienced paddlers. Life jacket, paddle, spray skirt, dry jacket, paddle mittens, lights for kayaks are included. A guide will escort to the cove and return with the whole group.

WHAT TO BRING
Bring a headlamp(for each person), warm hat and thin fleece jacket. Dress in layers. We provide a dry bag for your essentials. Please do not bring valuables.

DISCOUNT POLICY
Youth discount includes from age 15 to 17 and student, military and veterans. Please bring qualifying IDs along with the reservation.

REFUND POLICY
24 Hour Policy – You can change or cancel a reservation anytime, but it is better to take care of a change as soon as possible. There is a $5 to $20 processing fee for changes or cancellation. A card transaction fee(3% to 5%) is not refundable. Please call or email to ask for a refund.

PARKING
Please park at the visitor lot and purchase a $20 harbor parking permit as you check in.

Online booking closes early, sometimes days ahead. We can not accept walk-ins for this trip. Most intermediate or advanced trips require a reservation ahead of time. Tax and gratuity are not included in price.