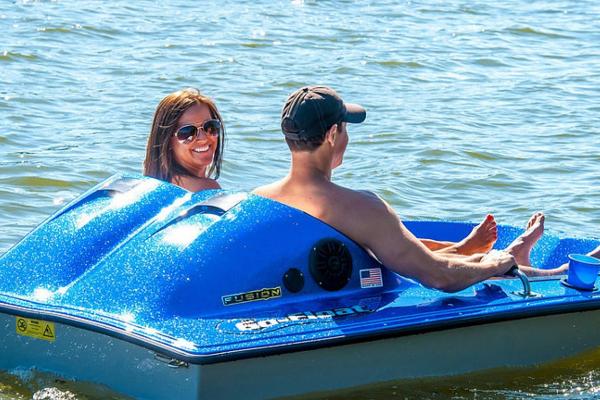 About Brittingham Boats
Brittingham Boats is the only place you can find Go Floats on the Madison lakes.

Our Go Floats are the perfect way for you and that special someone to hit the water in luxury and comfort. Bring a friend along and enjoy the excitement of touring both Monona Bay, the Monona Terrace or other great spots on Lake Monona. Go Floats are made for two adults, and possibly, a small child.

They are loaded with features such as single arm steering, push button controls, recumbent seating and up to three hours of cruising time. With spacious seating for two, a water proof stereo, a sun canopy, rod holders, and a cooler; our Go Floats are a far cry from the physical exertion required of a traditional paddle boat.

Go Floats are easy to operate with steering and throttle control in one hand. An on/off button, five forward speeds and two reverse speed, and excellent maneuverability, our Go Floats are both fun and easy to drive!

Rated for a maximum total rider weight of 550 pounds.