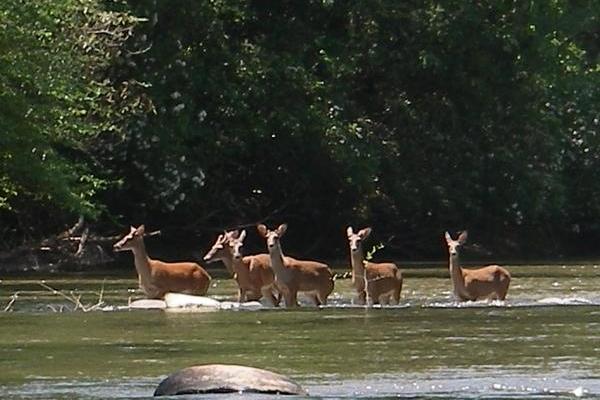 About AWC Rentals Muller Cabin
AWC Rentals is a vacation rental by owner business in the North Georgia Blue Ridge Mountains.

You're on your way to a great destination for a family vacation or getaway for two! People keep coming back to the North Georgia Blue Ridge Mountain region because of the relaxed setting and beauty of its landscape. The region boasts plenty for adventure-seekers as well as those that prefer to stay on one of our many scenic byways like the Southern Highroads Trail! An industry for tourism has grown around these mountains, valleys and quality of fishing. Plan to hike one of the many trails or consider a trip on this region's rivers, lakes and streams.

Inside the Resort -- Fishing in Beaver Lake or the river, picnic/walking at the parks, tubing/rafting, swimming at the Rec or Teen Center, mini-golf, tennis courts, indoor pool and billiards at the Rec Center.
-- East Park, Fish Trap Park, River Park and Canoe Park -- Registered guests don't need a fishing license when fishing from the banks of the Coosawattee River in the parks. Get some exercise on the one mile walking tract along the river+picnic/playground area at East Park.
-- General Store and Coosawattee River Tubing Company—tubes AND river transportation! Reservations: 706-635-1609

Adjacent to the Resort -- Carters Lake -- Automobile access off Hwys 382,136, 411, 282/76. Carters Lake embraces spectacular mountain-and-valley Blue Ridge Mountains scenery: pristine waters, rugged shoreline, and beach. The lake provides a beautiful surrounding for a variety of recreational opportunities which include fishing, boating, marina & boat rentals (706-698-7655). Note: Launch ramps by fee.

Fishing Guide Eric Crowley, N GA Mountain Lake and Stream Guide www.lakeandstreamguideservice.com
Ask for the $300 special he offers Debbie Wilson's guests. New this year…."announcing the new trophy trout waters we have available to fish. Lots of big fish at a high end piece of property unmatched by anything in North Georgia. Fly fishing is a big attraction here and we have the premier place to take the clients." Call 706-669-4973 or email: lakeandstreamguideservice@gmail.com to ask Eric about specific dates/trip.

In the Area
Restaurants Special Celebration? 15 miles South in Jasper, try these locals' favorites—Woodbridge Inn 44 Chambers St, Jasper, GA. Directions & reservations --706-253-6293 Dinner Tues. thru Sat. 5-9, also luncheons on Wed.and Sun.11-2. Cohutta Restaurant, atop scenic Fort Mountain. GPS Address: 500 Cochise Trail, Chatsworth, GA 30705 menus include Friday Night Seafood Buffet – $18.95 (5:00 pm – 9:00 pm) Saturday Night Prime Rib Buffet $19.95 (5:00 pm – 9:00 pm) Sunday Brunch Buffet $11.95 (11:30 am – 3:00 pm) For fresh seafood, try Jolly Roger Fish Market and Grill-- 706-276-2090, 716 Industrial Blvd. Purchase and cook at home or eat inside. Open Thursday thru Sunday. The famous Pink Pig Barbecue Restaurant is located 7 miles north of the resort. 824 Cherry Log Street, Cherry Log, GA (706) 632-2403 ý Other guest favorites: Charlies-outstanding Italian, but everything on the menu is great! New location at 15 West Cross St.,Hwy 515, East Ellijay, 706-635-2205. Try El Agave downtown or Cajun Depot (5 star rating with TripAdvisor) at 67 Depot St. Ellijay 706-276-1676. And check out the family specials at Pizza King 706-635-6666 in the Old Orchard Square (same complex as Ingles Grocery Store).
**Looking for food and Free WiFi? You'll find both at Starbucks and IHOP (a stones throw north of Walmart).**

Wineries/Wine Tasting
Cartecay Vineyards 5790 Clear Creek Road, Ellijay 30536-8031 (706) 697-9463 http://www.cartecayvineyards.com open Thur-Sun year round.ý
Sharp Mountain Vineyard 10 Rathgeb Trail, Jasper 30143 (770)735-1210 ýsharpmountainvineyards.com
Jan – Feb Saturdays: 12:00PM to 6:00PM Mar – Dec Fri/ Sat: Noon to 6:00PM Sun 12:30PM to 4:30PM
Blackstock Vineyards 5400 Town Creek Road Dahlonega 30533 http://www.bsvw.com/
(706) 219-2789

Ellijay Shopping and Historic Sites Downtown Ellijay - Directions: follow Old Hwy 5/Main St. to the square (about 2 miles). Also, don't miss Pickin in the Square on Friday nights 6pm-dark. This quaint square is lined with historic buildings, antique shoppes, restaurants, gift shops, dress shops, an ice cream eatery and http://www.whistletreepottery.com/ , a make your own pottery shoppe. Don't miss Apple Country Station, (The Teems Bldg.), 2 Northside Square,1908, the Times Courier Office, 47 River St.,1916, Penland's Antiques, 56 River St., 1914, and Christmas House, 88 River St., late 1800's. Ellijay City Cemetery - Best panoramic views of the city, valley and mountains; South of the Square, Ellijay. Old Cartecay United Methodist Church - est. 1834, oldest Methodist Church in North Georgia, call (706) 276-3703 to arrange a tour; Highway 52 East & Roy Road.
Kell Farm - Built in 1867 by James Kell, the farm is occupied by his descendants. A marker in the cemetery commemorates Kell's Revolutionary War exploits.

Golf - Whitepath Golf Course, 1156 Shenandoah Dr., Ellijay, GA 30540, Phone: (706)276-3080.Carts available. Course Type: 18 hole, semi-private; Dress Code: No tank tops or cutoffs. Open all year
Miniature Golf – Free at the Rec Center
Blue Ridge Railway, Blue Ridge, 241 Depot St. 1-800-934-1898, 1-706-632-9833. Embark on a 3.5 hour trip from Blue Ridge, GA, with a layover in picturesque McCaysville, GA and Copperhill,
Swan Drive-In Theater—Blue Ridge Located@ 651 Summit Street Call for times 1-888-469-1955

On the road to Amicalola – Cartecay River Access, Apple Orchards and Burts Pumpkin Farm. Burt's has pumpkins that range from an eye popping 150 lbs. to a modest 1 lb. in every variety imaginable. Burt's offers hayrides, baked goods and fieldtrips that take you through a winding trail filled with nature and beauty. Hayride Hours: Sept. 12pm-5:30pm Sat. & Sun., Oct. 10am-5:30 pm daily, Nov. 1st-15th 10am-4:30pm Sat/Sun.

Mountain Biking
Cartecay Bike Shop, 131 North Main Street just off the square for parts, supplies and a full time mechanic. 706-635-2453 Mon Sat. 10:00 - 6:00 Website: www.cartecaybikes.com
Check two of our guests favorites: Cartecay River Loop and East-West Loop at Fort Mountain.
Mountain Mopeds - 2218 Hwy. 52 East, Ellijay, 706-889-2265. By the hour.

ATV Guided Tours in the national forest with lunch! 1-866-ATV-TOGO for Advance Reservations.

Horseback Riding
Fort Mountain Stables--Chatsworth 706-517-4906 website: fortmountainstables.net
Talk about mountain vistas! Even those in your party that don't want to ride horses will want to go with just to see the scenery. Enjoy 37 miles of scenic horse trails thru Fort Mountain State Park. A great way to build up an appetite for the good eating at the Cohutta Lodge on the way home! Directions from Ellijay:Enter Ellijay downtown roundabout and take GA-2/GA-52 (22 mountain miles) towards Chatsworth. Turn RIGHT onto CLIFF MINE RD, then take RIGHT fork to the Barn.

Blanche Manor Horseback and Hayrides with Fireside Dinner—706-455-7433 www.blanchemanor.com

We do our best to share the most recommended places and provide accurate info about those places. Please notify Debbie if anything listed needs updating!
Thank you!