Resource Center
Fall 2012 Newsletter
In this issue:
Welcome
Welcome to the WebReserv Fall 2012 newsletter. We hope that you had a great summer season.
In this newsletter we will show you some of the many new features that we added to the WebReserv booking system this summer. This includes cancellation rules and fees, how to integrate to iCal based systems such as AirBnB and how to organize your reservations.
As always, a warm thank you for selecting WebReserv as your online booking system.
Best regards,
WebReserv.com
Cancellation Fees & Rules
The latest version of the WebReserv booking system can automatically handle cancellations and calculate cancellation fees.
To setup a cancellation fee or percentage, go to Setup – Business Information – Changes & Cancellations.
You can enter up to 3 rules for your business. Each rule has a time (prior to arrival date/time), penalty fee or %, and an indication of whether a customer can cancel the reservation directly.
In the example below, the cancellation penalty is 100% if cancelled less than 1 day in advance and 25% if cancelled more than 1 day but less than 7 days in advance. There is no cancellation penalty if the reservation is cancelled more than 7 days in advance. Note the last rule of 365 days. This is added to allow customers to cancel the reservation more than 7 days in advance.

Note the Allow customer to cancel setting. By setting this to yes, customers are allowed to cancel from MyReservations, or directly from your website if you have the ReservationCenter component installed.
Cancelled reservations
When a reservation is cancelled, the booking system performs the following:
Marks inventory/room/tours as available
Removes security deposit (if used)
Calculates cancellation penalty (if applicable – default is none)
Calculates final balance
Sends cancellation email to customer (if applicable – default is yes)
Here you'll see a reservation before it is cancelled: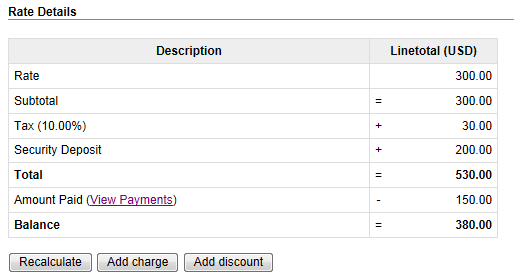 Now let's look at the same reservation after it is cancelled 4 days in advance.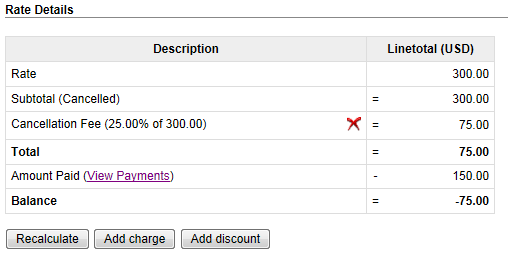 If needed, you can remove the cancellation fee by clicking the X (delete icon) on the cancellation fee line.
The booking system does not automatically charge or refund balances when a reservation is cancelled. To settle the balance, scroll down to the Payment Information section and click Add Payment or Refund.
For more information about reservations in the system, please go to: http://www.webreserv.com/help/frontdesk_modifying_reservations.htm
iCal Integration (AirBnB, Google, Apple and many others)
If you are using the WebReserv booking system for your Bed & Breakfast, Vacation Rental or Tour bookings, you may already be using the Google Calendar synchronization to automatically get the bookings added to your calendar.
Now, we're adding capability to have your bookings synchronized to any calendar that supports the iCal interface. This enables you to synchronize your WebReserv Booking Calendar with AirBnB, Widmu, Apple and many others.
To start the iCal synchronization, go to Setup – Business Information – Advanced Options. Under Calendar Synchronization, choose iCal. The system will show the unique iCal link for your booking calendar. Copy and paste this link into the calendar synchronization screen for the application you are integrating to and save it. The system will start synchronization.

Note that the frequency for the calendar synchronization is usually once or twice per day.
Tips & Tricks
Organize your reservations
The latest version of the WebReserv booking system makes it even easier to organize your reservations and show the information that is important to you. When logged in to your WebReserv account, go to the home page and click Customize this page at the bottom of the screen. On this page you can select which reservations to see:
All Reservations - Shows reservations for today and future dates
New Reservations - Shows reservations made within the last 5 days
You can also select which columns to show. To include a column, simply drag it from the list on the left side to the list on the right side and vice-versa. Of course - you can also sort the columns the way you want it.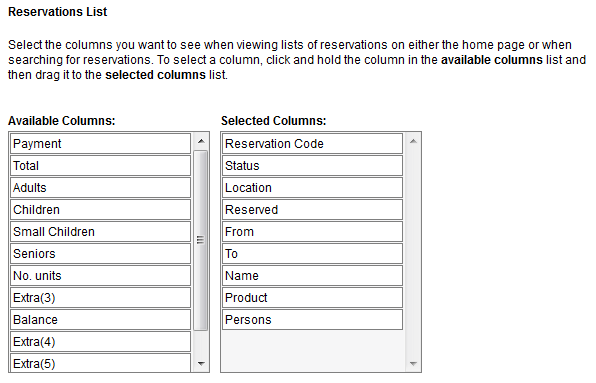 Have a question? Write us and let us know.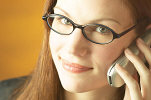 We want to hear from you
We always want to hear from our customers. Your suggestions are invaluable for us to continue to make WebReserv.com even better. If you have ideas for features that can help you run your business smoother, let us know by sending your thoughts and suggestions to support.

We look forward to hearing from you.