Resource Center
National Merchant Alliance Spring Promotion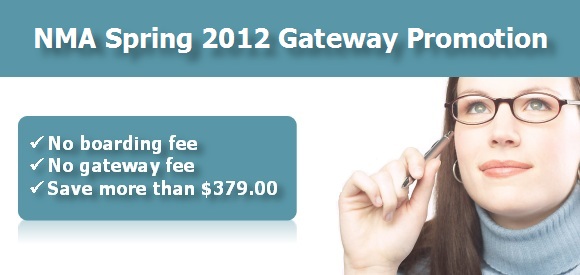 90% of all businesses save on credit card processing fees with National Merchant Alliance
National Merchant Alliance is pleased announce our e-Commerce Spring Gateway Promotion. Any WebReserv.com merchant that signs up with NMA for credit card processing services between now and May 31, 2012 will have their one time boarding fee of $199.00 and monthly gateway service fee of $15.00 completely waived. This represents a first year savings of at least $379.00 dollars on gateway fees not to mention possible additional savings on credit card processing fees with NMA's competitive rates.
Now is a great time to consider either adding integrated credit card processing services to your web site or switching processors to save on interchange fees. With integrated credit card processing services, WebReserv.com automatically charge customer deposits and you can charge outstanding balances and refunds with just a few clicks.
In order to qualify, merchants must submit a NMA New Client Information Sheet no later than end of business day on the last day of the promotion.
Call today and find out how much you can save!
For further details and rate quotes please call National Merchant Alliance at 800-707-4095 and ask for Andrew Sichynsky at extension 110.
Remember, this promotion only lasts until May 31, 2012
---
Terms and conditions apply. For all terms and conditions please contact National Merchant Alliance.