Resource Center
Spring 2008 Newsletter
In this issue:
Welcome
Dear WebReserv customer,
Welcome to the WebReserv.com newsletter. In this issue we describe a number of new features that have been added to WebReserv.com. You may already have seen or even used some of them online, but we have also made improvements under the surface, so check out the entire list.
Over the past couple of months we have experienced a surge in traffic coming to WebReserv.com and a strong increase in the number of processed bookings. Make sure that your business listing is complete and up-to-date and that you include pictures of your property or products. All of this helps your business be listed higher on WebReserv and on search engines such as Yahoo, Google and MSN.
Also remember to update your rates on WebReserv.com. Remember that reservations can only be made if rates are available. To check your rates, log on to your WebReserv account and select Setup - Rates. You should have rates for 6-12 months in the future to ensure that customers can make reservations in advance.
Best regards,
WebReserv.com
Spotlight on: Reporting
The new reporting module provides reservations and revenue reports that easily can be viewed online, printed or even downloaded to Excel for personal use or tax purposes. Currently you can view or download reservation reports by logging on to your WebReserv account and click Frontdesk - Reports. The reports are available with Silver and Gold accounts.
Reservations Report:
The reservations report shows all valid (pending and confirmed) reservations for a specific date or date range. The report is a convenient way to get a list of each day's customers and can also be used as a passenger manifest. To run the report, select Frontdesk - Reports, enter in a start date and an end date and format; select HTML for online viewing or printing and CSV for download to Excel.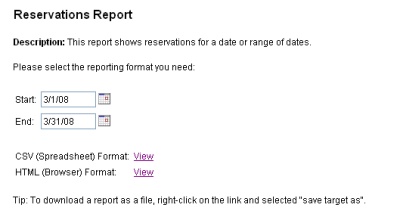 Revenue Report:
The Revenue Reports shows revenue on a month-by-month basis. The report includes line items for additional charges, customer options, tax and more. The revenue is calculated on the first day of the reservation, so a reservation from March 29 to May 5 will be included in the March line. To run the revenue report, select Frontdesk - Reports and, type in the reporting year and select HTML or CSV format.
Customer Report
The customer report includes customer contact information and reservation code(s). The customer report will be available by the end of March.
New features
Updated Availability Calendar
Now you can use the availability calendar to view hourly reservations and fixed-schedule reservations. The new calendar also provides better viewing ranges (monthly, 14-days, weekly and daily) and you can easily navigate the calendar using the scroll-bar at the bottom. To view availability go to Frontdesk - Availability.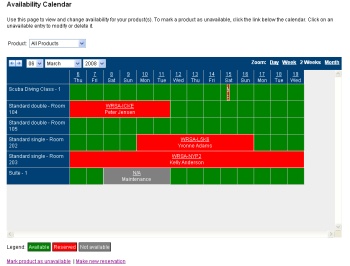 With the new calendar it's easy to view availability, make corrections, and remove availability as necessary. For example, when a unit becomes unavailable due to maintenance. To mark it as unavailable, simply go to the availability calendar and click the link Mark unit as unavailable. This will take you to a page where you can select the unit and time period for which the unit is unavailable. You can even enter a description for the unavailable entry as a reference.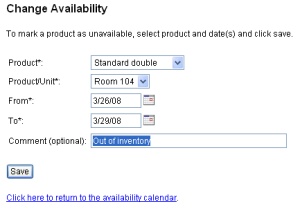 When units are unavailable, they are marked in gray so they can easily be distinguished from other reservations. If you need to change an availability entry, simply click on it in the calendar and change the timeframe as needed. To remove an available entry, click on it in the availability calendar and click the button named Delete this entry.
Customer emails
The email system has been modified to reduce the number of customer emails when a reservation is created or changed. A customer will automatically receive a reservation email under the following circumstances:
A reservation is made
Reservation status changes from Pending to Confirmed or Confirmed to Cancelled
Start date/time or end date/time is chanced
The product has been changed
In any of these circumstances a reservation email is automatically sent to the customer.
In addition to sending a confirmation email to your customer, you will receive a notification email whenever a new reservation is made.
Custom Field Display Order
We have made it easier to customize how custom fields are displayed. You can now set a custom field to be displayed with the reservation date/time, with customer information or as additional requirements. By changing the display order, you have better control over the information flow during the reservation process.
To change the display order, go to Setup - Custom Fields and select change display order. The display order is changed globally for all custom fields.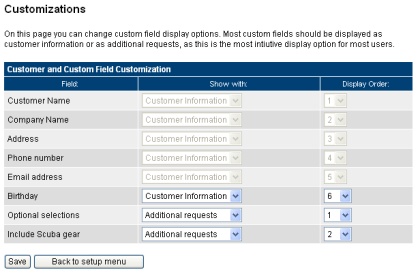 Useful tips
Tips & Tricks: Coloring the booking calendar
You probably already use the booking calendar on your website, but did you know that you can change the color scheme to make it blend perfectly with your website? And you can even control what products to show in the widget.
This is used by many businesses to create a calendar that shows the availability for the exact product or unit that the customer is looking on the webpage.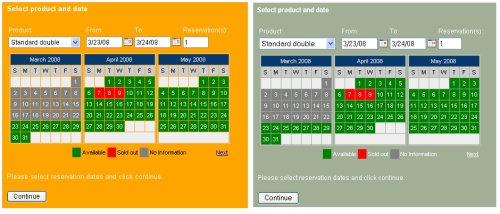 To learn more about how to customize the booking widget, read our online tutorial here:
http://www.webreserv.com/articles/20060901
You can also find tips and tricks in our blog:
http://webreserv.wordpress.com
Have a question? Write us and let us know.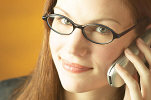 We want to hear from you
We always want to hear from our customers. Your suggestions are invaluable for us to continue to make WebReserv.com even better. If you have ideas for features that can help you run your business smoother, let us know by sending your thoughts and suggestions to support.

We look forward to hearing from you.